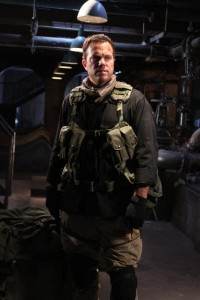 The last season of Chuck has started filming and Comic Con gave some hints as to what we can expect from season 5 (for Clarissa's full report head here). TVLine has just announced some more big casting news that will have major consequences for John Casey (Adam Baldwin). Matrix star Carrie-Anne Moss will be guest starring in a multi-episode arc as both a rival and a love interest for Casey. Warning spoilers ahead.
Moss will be playing Gertrude Verbanski, a former spy who also runs a private firm 'Verbanski Corp'. This company happens to be the biggest competitor to Chuck (Zachary Levi) and Sarah's (Yvonne Strahovski) new business venture. Along with this business rivalry Verbanski has a history with Casey and even though she is both "ruthless and deadly" her weak spot might be with a certain former NSA agent. Baldwin hinted at Comic-Con that Casey might be in for a treat this season saying "Casey has either met his match, or his love match."
So far Casey has not had that much luck in the love department; Kathleen (Clare Carey) his fiance and mother of his daughter Alex (Mekenna Melvin) believed that he had been killed in action and only found out that he was alive and living under a different name at the end of last season. Casey has also had intimate relations with Carina (Mini Anden) another spy and former member of the CAT Squad. Casey's true love up until now is with his job and duty to his country, that and his Crown Victoria.
Hopefully Casey will find some happiness in this final season of Chuck and it sounds like Gertrude Verbanski could be just the right woman for him.
Other guest stars from much beloved film projects that have already been announced for this season of Chuck include Mark Hamill (Star Wars) who will be playing the villain in the premiere. As this is the final year of Chuck I think we can expect more fantastic guest stars to be announced as filming continues.
The final season of Chuck premieres on NBC Friday, October 5 with "Chuck vs the Zoom."