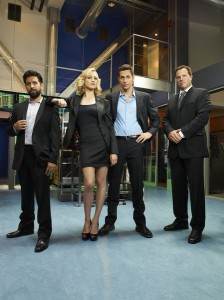 There are just two episodes left before the big Chuck series finale on January 27 and this season has focused on what the future holds for these characters and a big question mark hangs over their future career options. We have already seen the gang turn down a return to the CIA and the idea of raising a family has been getting louder as the season has progressed, with Sarah (Yvonne Strahovski) mistakenly thinking she was pregnant last week (check out our review here). Don't get too cosy yet as the final villain that they will be facing is introduced this week and it looks like he is set upon causing some major havoc.
The mission this week involves fallout from Morgan's (Joshua Gomez) time as the Intersect which means he has to get those delightful frosted tips back. It also strangely involves the real Bo Derek (10) who will be playing herself and is important to this mission as they head to Vail. It's not going to be all fun and games though as a final obstacle comes into play and it looks as if Sarah is the one who might be in danger this time. Angus Macfadyen (Californication, Alias) will be playing Nicholas Quinn and Yvonne Strahovski told Entertainment Weekly that in terms of the past villains on the show "He's a little more erratic than others."
Generally with Chuck you know that they will get out of the dangerous situations they are in but Strahovski warns that these last episode will bring heartache; "Chuck (Zachary Levi) and Sarah have this great relationship, but I think in these last episodes, you'll see that they'll have something taken away from them, and it sort of causes some trouble in a big way." Could this be at the hands of Quinn? The death of Stephen Bartowski in season 3 showed that on occasion they do kill one of the good guys, so can we expect another surprise in this manner?
If it's not too late it looks like both Chuck and Sarah want out of the spy game; the first sneak peek shows Sarah revealing this desire to quit spying as she spent the night thinking about her future with Chuck and the second clip below shows the pair trying to convince a very reticent Casey (Adam Baldwin) that it is a good idea. He seems to semi come around to the idea but as a cover is no longer needed he wants to be rid of the Buy More.
One interesting development last week was that Jeff (Scott Krinsky) figured out the whole spy status of Chuck, Sarah and Casey and discovered Castle alongside Lester (Vic Sahay). The pair got shot with tranquilizer darts at the end of the episode so where does this leave them now?
Check out the promo and sneak peek for the Friday 13 episode "Chuck vs Bo" below.