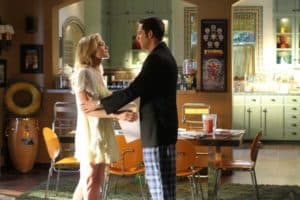 I'm sure all true Chucksters have heard the great news, but in case you didn't, Chuck has been picked up for a 13-episode final season debuting this September. Further, the show is being moved to Friday nights at 8:00pm ET/PT and is being paired with NBC's new fairy-tale tinged drama Grimm, in an attempt to kickstart scripted programming on that night. Of course, we Chuck fans would have loved a full 22-episode season pick-up, but I think a great thirteen episodes which give Josh Schwartz and Chris Fedak a chance to wrap up the series in the way they want to is quite the blessing. Especially because from what I hear about tonight's finale, there are going to be some EPIC stories to wrap up!
That's right, tonight's season finale "Chuck vs the Cliffhanger" is, apparently, aptly titled, with critics who have reviewed it already rather excited about the possibilities that are opened by episode's end. Not as if we needed any more reason to watch, with Sarah possibly killed by Vivian Volkoff, the prospect of Chuck enlisting her father to help him defeat Vivian, and Chuck's desire to complete his father's work and fix Agent X. Remember, the show airs at 8:00pm ET/PT tonight on NBC.
To get you in the mood for our favorite accidental spy's season finale, check out the clips below. I'll be back tomorrow morning with my recap of "Chuck vs the Cliffhanger." Enjoy!
Follow: twitter.com/tvovermind
Follow: twitter.com/mikenjd
Email: [email protected]