Hello fellow Chuck fans. As you all know, Chuck will be returning this Sunday night, January 10th at 9:00p EST, for a two-hour premiere, before settling into its normal time slot the following night, Monday at 8:00p. It has been a long eight months since we last saw our favorite accidental spy, so I decided to go back and watch last season's finale, "Chuck Versus The Ring," to refresh us all as to where we are currently, and where we are going.
*Chuck and now-Colonel Casey have quit the Buy More.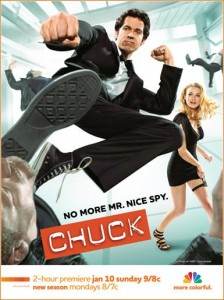 *Sarah has acknowledged, to herself, that she has feelings for Chuck (she refused to go to Zurich with Bryce), but hasn't told Chuck flat out.
*Awesome, now married to Ellie, knows that Chuck is a spy.
*Morgan is leaving California to go to Japan Hawaii to become a hibachi chef.
*Big Mike is dating Morgan's mother.
*Bryce is dead (thanks to this).
*Orion (aka Chuck's dad) is alive and still has Intersect 1.0 in his head, although I wouldn't expect to see him very soon.
*FULCRUM is one part of a larger bad guy conglomerate known as The Ring.
That's about it. So as you can see….what? There was something else important….right…..hmmmmm…..oh yeah
*Chuck purposefully downloaded Intersect 2.0 into his head!
Where We're Going
Well, obviously, Intersect 2.0 will lead to the biggest change in the series come Season 3. As we saw at the end of last season, Intersect 2.0 will give Chuck not only the accelerated information recall that was present under Intersect 1.0, but physical skills as well. We have learned through interviews with Zachary Levi and Josh Schwartz that these special skills will be set off by Chuck's emotions, which could lead to some very funny scenes (I foresee Chuck lusting after Sarah while on a mission and all of a sudden being able to tango, or the like). Further, like emotions, these skills will be fleeting. This is the key to the series maintaining the comedic "Everyman-as-Spy" vibe we Chuck fans love. If Chuck were to become, well, Bryce, because of Intersect 2.0, then the show is just another action drama. However, if Chuck's mastery of kung fu fails him in the middle of a fight, then we get to see Chuck wriggle his way out of the situation by relying on his brains, wit and cheek like the past two seasons. This combination of new badass super-spy skills and old serendipitous success, I believe, has the potential to really boost Chuck to an even more successful level.
As it concerns the non-Intersect future of the show, there are a couple things I would expect to, and would like to, see. I expect Chuck, Casey and Morgan will all end up back at the Buy More, with or without Big Mike as the manager (Tony Hale's Emmett was in charge at the end of Season 2). We know that Anna will not be there, as Julia Ling was not asked back as a series regular due to financial constraints (buy more Subway sandwiches people!), but Jeff and Lester will, so I expect more wonderful nonsense from Chuck's "regular" job. Further, I anticipate to learn more about the other groups that make up The Ring. This device is actually great for the show because it gives the writers more than FULCRUM to throw at Chuck, Sarah and Casey. These new bad guys could be from different countries, have different skills or different means to achieving whatever the overarching goal of The Ring is. Moreover, I think we'll find out what The Ring's overarching goal actually is, assuming it is something more than worldwide domination.
On the list of things I would like to see, I hope that Chuck's conscious choice to upload Intersect 2.0 into his head is addressed. As I have said above, Chuck has always been an accidental spy, thrown into that world by happenstance. However, Chuck made the decision to upload the new Intersect into his brain. What does this mean for him? Can Sarah and Casey ever think about telling him to "stay in the car" again? Will he be more willing to tell Ellie and Morgan about his secret life? How will his relationship with Captain Awesome evolve now that they'll likely be working together? We always saw Chuck with the unwanted burden of a double life, what will it mean that he chose that burden now? I know I won't get this, but I would like to see Chuck and Sarah get together. I mean, they've teased the relationship for two seasons, and it's what the majority of fans want. It could give us some nice Mr. & Mrs. Smith action, plus how do you react when you need to make a decision between love and country? And you know Casey will lose his flippin' mind over Chuck and Sarah whispering sweet nothings into their earpieces, which will be comedy gold! Lastly, I would like to see (and I know this sounds insignificant) the destruction of Orion's arm computer. I mean, come on! That thing can divert nuclear missiles, find a mouse in a 50-story building and translate ancient Sumerian texts while brewing a cup of espresso and playing iTunes! It's like the ultimate deus ex machina, and Chuck is too smart to use such devices. Get rid of it!
I don't know about you, but I am very excited for the big three-hour, two-night Chuck premier. Please leave your thoughts, theories and comments below. I'll be back next week with recaps of the first three Chuck-tastic hours. Until then…Enjoy!
Also, for some more Chuck photos and promos, check out here, here and here.