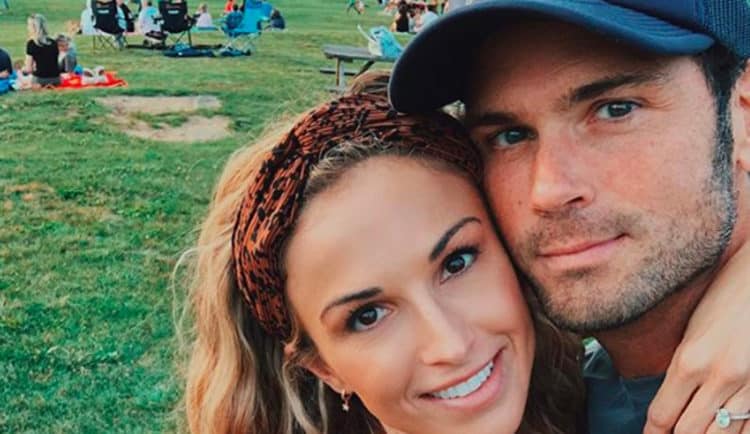 Country music's biggest stars seem to like keeping it in the family. Country artist Chuck Wicks has been in the news lately for getting married to the sister of Jason Aldean, one of country's biggest talents today. Chuck and Kasi Williams recently wed at Mexico, and we're getting all the feels from their union. Chuck has been in the industry for a while now, but many still probably don't know exactly who he is. You now know that he's a married man, but here are 10 things to add to your working knowledge of Chuck Wicks.
1. Charles Elliott
As you've probably guessed already, Chuck is short for Charles. His full name is Charles Elliott Wicks to be exact, and he was born on June 20, 1979. Chuck was born in Smyrna, Delaware. There probably aren't many things that Smyrna is known for, but it's now known to be Chuck Wicks' hometown. In fact, he grew up in a potato farm owned by his family, which probably contributed to the amount of practice time he had with his music. One thing is for sure: his background is what made him the hardworking musician he is today.
2. Sports
Believe it or not, music wasn't always Chuck's first choice. He's always immersed himself in music growing up, and at some point he probably realized that he had the natural gift for it. But like many average boys, he wanted to play sports more than anything. Everything about his world as a young man revolved around sports, and so it was only natural for him to explore it as a possible career option. Chuck eventually left Delaware in pursuit of a career in sports.
3. College
To begin his athletic career path, Chuck moved away to attend the Florida Southern College, a private university located in Lakeland, Florida. The university is most famous for having the largest collection of Frank Lloyd's Wright's architecture, but their athletic programs aren't half bad at all. In fact, Florida Southern has won 30 national titles in the NCAA Division II competitions, 9 of which are with baseball. Chuck Wicks went to Florida Southern College to play baseball, but unfortunately that didn't last for very long.
4. Nashville
It was in college that Chuck began entertaining his desire to play music. Pretty soon, he was playing music more than he was playing baseball. In fact, he quit school in order to move to Nashville and pursue his dream. He was short of only two classes before he could've graduated. But Chuck knew precisely what he wanted to live his life doing, and he couldn't have that kind of life if he were to stay in Florida. Nashville was the place to be for country music, and that's where he ended up.
5. Lead Me On
While Chuck was at Nashville, he went into songwriting overdrive. At one point, he was writing at least 100 songs per year. Now it doesn't really matter how many songs you write; you have to define whom you're writing them for. Chuck had the goal of getting his music heard somehow, and this happened for Chuck in 2006. One of his songs, Lead Me On, somehow ended up as a song on country singer Steve Holy's album, Brand New Girlfriend. Steve Holy sang the song, but Chuck got songwriting recognition for it.
6. Nashville, the Show
If you were a fan from the beginning, you'd probably know this already. But many don't even know that this show even happened. Nashville was a reality TV show that aired on Fox in 2007. Among those that were cast to be on the show was none other than Chuck Wicks. Now don't confuse this with the highly successful TV series of the same name that featured Hayden Panettiere and Connie Britton. No, Chuck's Nashville followed the lives of country artists as they tried to make it on the big stage. Unfortunately, that show was canceled after the second episode due to terrible ratings.
7. Dancing with Julianne
Just a little over a year after his first album debuted, Chuck Wicks started dating fellow country singer Julianne Hough. We all know that Julianne is also a prolific dancer and a Dancing with the Starschampion—twice. It was only right that Chuck Wicks end up on the show somehow, and he did in 2009. He only lasted a month on the show before he got eliminated. Later on that year, Julianne eliminated him from her life as well, or maybe he eliminated her. It was mutual, so they said.
8. Fast track
Not much is really known about Chuck's dating life after Julianne Hough. But fast forward it to nine years, and Chuck is dating Jason Aldean's sister Kasi Williams Morstad in 2018. While Jason is a huge deal in country music, not much is really known about Kasi. What we do know is that she was married previously and had a daughter with ex-husband. She also adopted two older girls during that marriage. Kasi and Jason got engaged in March 2019 and got married the same year in July. Chuck was an instant father to three.
9. Nash FM
Aside from his thriving music career, Chuck Wicks is also a radio personality. Currently, Chuck co-hosts a show on Nash FM called Ty, Kelly, and Chuck.That show was formerly known as America's Morning Show and is syndicated by Westwood One. Chuck hosts alongside Ty Bentli and Kelly Ford.
10. Albums
Even though Chuck Wicks has had a solid career since the mid-2000s, he's really released only two albums so far. The albums are called Starting Now from 2008 and 2016's Turning Point.Fans waited 8 years for another album and are all hoping that they don't have to wait another 8 years for more. His best song to date was still his first release, Stealing Cinderella, as that song peaked at the number 5 spot on the country list on Billboard.