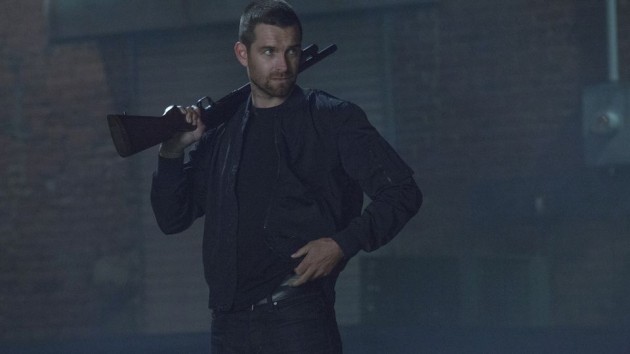 Banshee's story is coming to a close. The critically acclaimed Cinemax series, which just aired its much praised third season earlier this year, will end its run after its upcoming fourth season. The news was first reported last night by TVLine, which also stated that the producers "were able to craft an 'epic' conclusion to the series," and it has now been confirmed by Cinemax.
"Banshee is a unique and compelling show that helped set high standards for original programming for Cinemax," Michael Lombardo, president, HBO Programming, said in a statement. "The show's exceptional blend of action and drama earned a vocal and passionate fan base that will not be disappointed in Banshee's final season."
"Banshee has been an incredible ride, and we continue to break new ground in Season 4," said co-creator and executive producer Jonathan Tropper. "While we certainly considered returning for a fifth season, I always said that when the story was told, it would be time to move on, and that time has come. I am grateful to Cinemax for making Banshee the great success it has been and for supporting our creative decision to wrap things up."
While not much is known about what the story of Banshee Season 4 will be, we do know that, instead of its regular 10 episodes, the show's fourth (and now final) season will consist of eight hour-long installments. Also, production for Banshee Season 4 will move from what has been the show's regular shooting location for its first three seasons, North Carolina, to Pittsburgh, PA.
Additionally, some new actors will be joining Banshee's Season 4 cast. Chris Coy and Matthew Rauch will both be series regulars next season, while Ana Ayora, Casey LaBow, and, most notably, Eliza Dushku will all have recurring roles in Season 4.
Banshee stars Antony Starr, Rus Blackwell, Ivana Milicevic, Urlich Thomsen, Frankie Faison, Hoon Lee, Matt Servitto, and Lili Simmons.
Banshee's fourth and final season is set to premiere in early 2016 on Cinemax.
Banshee fans, are you sad to hear about the series ending, or are you happy to know that the show's creative team is working towards a strong, satisfying conclusion? Comment below and let us know.
[Photo via Cinemax]