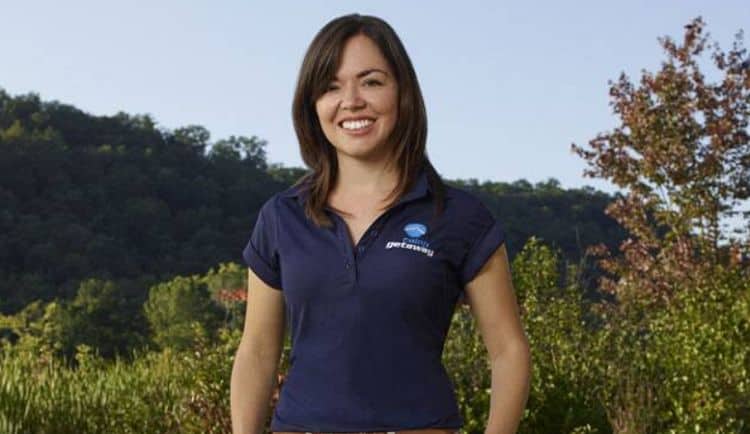 Being a camp counselor is something that most people see as just a summer job for teenagers. It's an easy way for high school and college students to make money while they have time off for school. However, for Claire Sorrels and the rest of the staff at Camp Getaway, being a camp counselor has become a career. Sorrels is best-known for her role as the senior director of Camp Getaway and a cast member on the reality series dedicated to the show. If you're not familiar with Camp Getaway, it's a 300 acre property in Connecticut designed to be a summer camp for adults. The unique experience is sure to be fun for guests, but it also keeps Claire and the rest of the staff on their toes at all times. Keep reading for 10 things you didn't know about Claire Sorrels.
1. She Runs A Very Tight Ship
If anyone thinks working at Camp Getaway is going to be an easy and low maintenance job, they might want to think again. Claire is very serious about her job and the camp, and she demands the very best out of everyone who works under her. She doesn't like when people don't follow the rule and she isn't afraid to call her staff out when they mess up.
2. She's Worked At Camp Getaway For Over 10 Years
For some people, spending 1 or 2 summers working at a camp is more than enough, but not Claire Sorrels. She has made a career out of working at camp and has risen through the ranks. Even after a decade of working at Camp Getaway, she keeps coming back for more.
3. She's A Master Problem Solver
As the senior director at camp, Claire often finds herself having to troubleshoot all sorts of issues. Whether it be a guest who is unhappy with their stay, or a counselor who has done something wrong, Claire has to be quick on her feet in order to keep things running smoothly. Not only is Claire good at this, she's practically a master. Any time an issue arises, she's able to get it solved before most people even knew there was an issue.
4. Her Husband Also Works At Camp Getaway
Claire's husband, Nate, also works at Camp Getaway. He is the director of sales and business development, a position he's held for more than 16 years. According to his LinkedIn page, his "primary responsibility as the Director of Sales and Business Development is to identify new opportunities and expand the current customer base. I employ a sales focused approach to identify prospective clients and clearly articulate the mission and values of our organization. My objective is to create and sustain a loyal network of impressed guests."
5. She's A Mom
Claire definitely has her plate full, but she seems to be handling it all with plenty of poise. In addition to being a wife and a boss at work, Claire is also the proud mother of three children. When she isn't busy working, she enjoys spending time with her family.
6. She Does Everything She Can To Make Guests Happy
Although Claire's title sounds somewhat fancy, the primary responsibility of her job is to make sure that the guests are happy and their experience at camp is as smooth as possible. She is committed to making this happen and does everything in her power to make sure that each person who visits Camp Getaway leaves with plenty of great memories.
7. She's A Dog Lover
At work, Claire is definitely the type of boss you don't want to mess with. She believes in tough love all the wrong, and some of her employees may not get to see her soft side very often. However, Claire definitely has a soft spot for dogs. She is a dog lover and has an adorable little puppy with her family.
8. She Enjoys Traveling
Due to her busy schedule and her responsibilities at home, Claire doesn't get to go on vacation as often as she'd like. However, when she does get the chance to get away, she enjoys traveling with her husband and checking out new destinations. She and Nate traveled to Mexico together in 2016.
9. She's Active On Social Media
Claire Sorrels definitely isn't the most frequent social media user, but she's definitely on there. She has a personal Facebook account where she posts updates about her life and her family. She also has a Pinterest account where she gathers ideas for personal projects.
10. She Likes To Stay Private
Even though she's recently been thrust into the reality TV spotlight, Claire doesn't seem to be interested in putting her personal life on display. She hasn't seemed to do any interviews or posts regarding the show and it appears that she's content with keeping it that way.