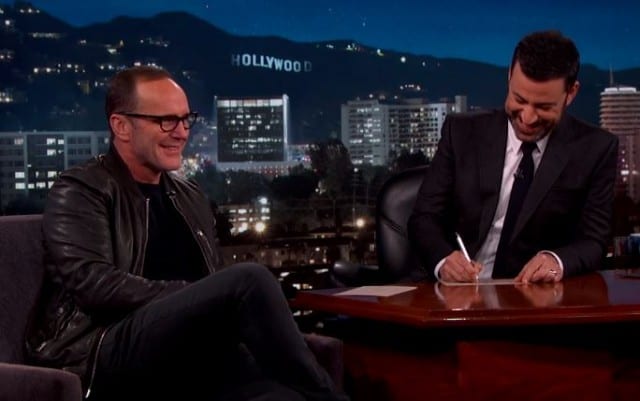 After Benedict Cumberbatch debuted the first official teaser trailer for Doctor Strange last night on Jimmy Kimmel Live, Kimmel kept his week of Marvel going by having Agent Coulson himself, Clark Gregg, on the late night show. The host first asked the Agents of SHIELD star what he thought of the trailer, which Gregg said he enjoyed, but he chose instead to focus on Cumberbatch's "fantastic name." In fact, Gregg even tried to give himself a cool nickname that could compare to Cumberbatch's, but when he tried, what came out wasn't so great.
In his impulsive attempt to come up with something cool and different, Gregg accidentally dubbed himself "Clarkledick Greggleb**ch." When he considered changing it, Kimmel, who couldn't stop laughing, along with the audience, told him that he should stick with it.
"I feel like that's going to follow me for a while," Gregg said.
"I hope it does," Kimmel joked. "I really hope it does."
Additionally, Gregg and Kimmel discussed his role in the Marvel Cinematic Universe and how exactly Phil Coulson was able to return from the dead after Loki killed him in The Avengers. So what made Marvel change its mind? The reaction from the fans.
"They started posting #CoulsonLives," Gregg explained. "And I say posting, like writing it on bridges in Vienna and all around the world, and it became this thing."
"And when you say they were posting, you mean you were writing it on bridges in Vienna and all around the world," Kimmel joked.
"I will deny that until those pictures turn up," Gregg responded, laughing.
Watch Jimmy Kimmel's interview with Clark Gregg below:
[Photo via YouTube]