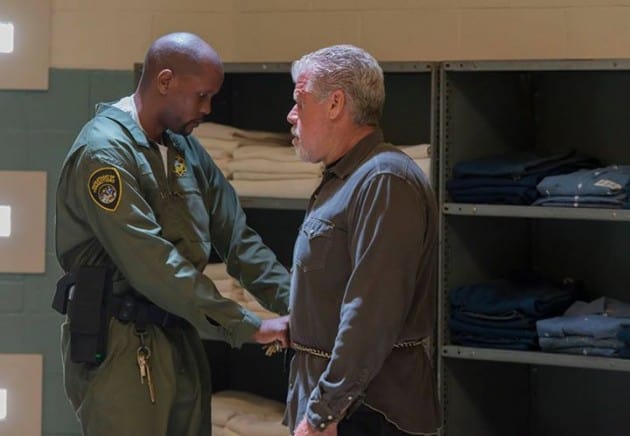 Here's a little sneak pic of this week's upcoming episode of Sons of Anarchy that everyone is buzzing about.    The main question for Sons of Anarchy fans is "will Clay regain control from the inside?"  Speaking of buzz, here are some quotes and questions from excited fans all over Twitter and Get Glue about this week's sure to be remembered episode.  There's a lot of speculation this week and this season.  What do you have to say?
FrankVice says: " I mean, sometimes in being "true" to the people you love, you forget who you are. Tera like Gemma…Jax like Clay. She knows the just how deep the rabbit hole she really is, now. Can't wait to see what Gemma does, lets not forget who's "bin"
Kathy Barrett says: I've developed a girl crush on Gemma Morrow. Katey Sagal is a phenomenal actress. Love this character.
Cameron Shore says:Â  LOL I'm soooo excited omg, the last two have been fantastic!
Armando says:Â  Can't believe Tara went that far! Honestly I'm not a fan of this storyline. Tara had valid motivations against Gemma on S4&5, but not now. If anything, this latest episodes have shown that Gemma has given Tara more space to spend with her kids, and how does Tara spends this time? By allowing Wendy to be near Abel! She says she wants to get divorced from Jax, but all her actions speak the opposite, she's always trying to get Jax approve on something. I get that she wants to get away from the violence, but she "accepted" that world, once she decided to stay with Jax on the previous season finale.
Kimmie Responds with:Â  True..but on the previous season finale, she was arrested…after Gemma threatened her with arrest. It seems that being in jail was the final straw for Tara. While she handled herself in there, she is not built for prison. Not only that, her career has been damaged by her going to jail. Her latest move was shiesty, and i don't think i would've gone there myself, but i don't blame her for wanting to get away from Gemma. Now, i have a saying: if you don't think you can get away from your problem, you need to get your problem away from you. Perhaps that's what she's trying to do. The way she's going about it isn't cool, though.
And finally we have actor TheoRossi who took this awesome pic with Katey Segal and Kim Coates recently.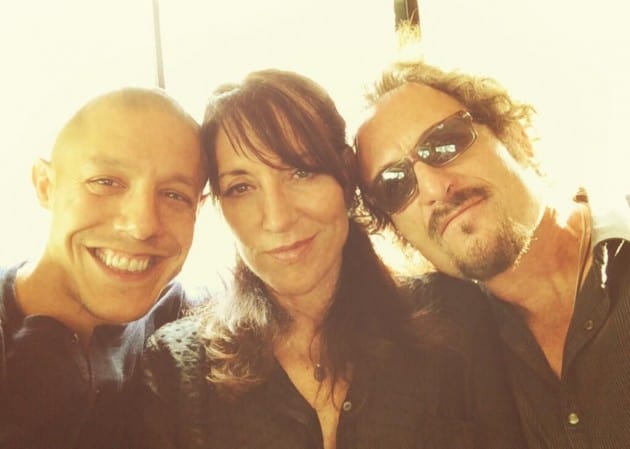 What do you guys think is gonna happen this week????