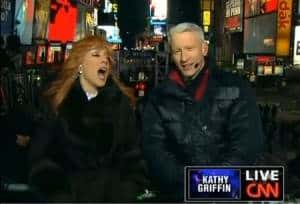 Much to my delight, comedienne Kathy Griffin has once again been asked to co-host CNN's New Year's Eve show with Anderson Cooper, according to PopEater.com. Apparently the CNN executive who "fired" Kathy last year after she infamously dropped the F bomb on the air was himself fired soon after, paving the way for Kathy to make her return to Anderson's side to ring in the upcoming New Year.
Don't expect Kathy to behave herself, as being banned or fired only seems to encourage more outrageousness. Plus, new network management only means a fresh start at pissing off a new team. Ms. Griffin is also savvy enough to know that trouble equals big ratings and headlines. CNN knows this too, even if it means letting their beloved intellectual Anderson Cooper sweat it out all night, bracing himself for the unknown.
What antics can we expect from our favorite potty mouth this year? Any curse word or slander imaginable of course, and possible targets of a mischievous diatribe include Oprah, Miley Cyrus, the Palins, the heckling drunk in the street, or even Anderson himself. There is no way to predict exactly what she has up her sleeve for viewers and CNN suits, and sometimes I don't even think she plans it, but you can bet the CNN legal beagles will be on high alert all evening!