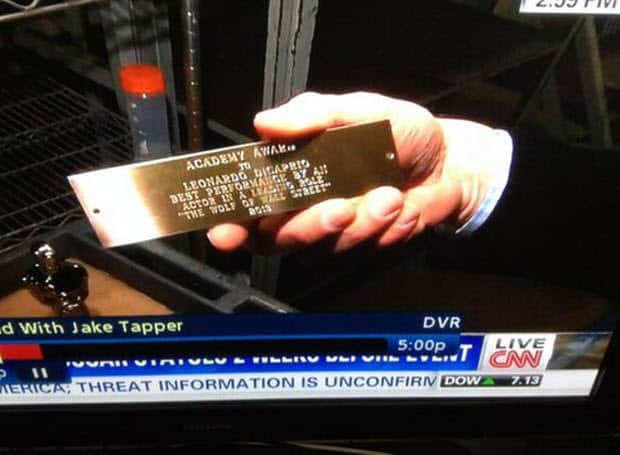 CNN aired a segment on the Oscars yesterday, and showed something that many believe to be a spoiler for the upcoming show. But don't worry, it isn't.
They showed a plaque that said Leonardo DiCaprio had finally won a statue for his work in The Wolf of Wall Street, making it seem like they'd ruined the show. In truth, the votes haven't even been cast yet, and the Oscars makes a nameplate for every nominee. Only one is attached to the statue, while the others are melted down and recycled. I suppose they could give them to the actors, but it would be kind of depressing holding onto a plaque that signifies you DIDN'T win an award.
Do you think this will actually be DiCaprio's year? While he was great in Wolf of Wall Street, it's a rather crowded field, and he may walk away empty handed again. Still, this is probably the best shot he's had in years, and I wouldn't be surprised if he finally takes it home.
[Photo via Joseph Robinow]