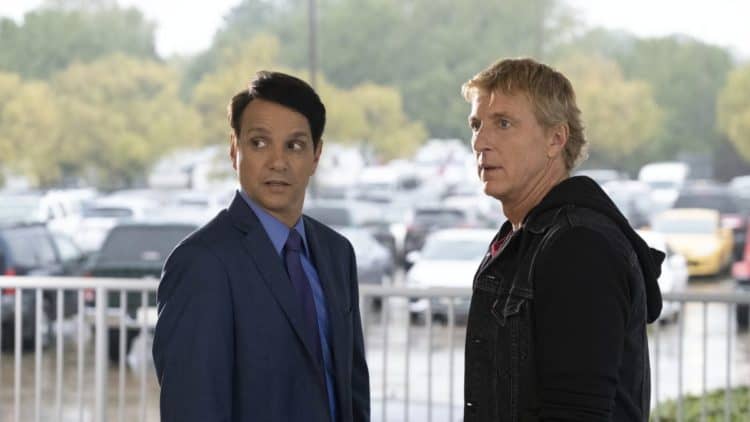 With the cancelations that have been occurring left and right it's likely that many people might have thought that Cobra Kai season 4 wouldn't have had a chance of happening. But rest easy, since the season has been shot and is bound to hit Netflix later this year. But the development that's in the process of being thought up now are spinoffs that might help to keep the fun going since the creators of the show are of the mind that Cobra Kai is a spinoff, which is true since we've seen the show detail the lives of Johnny Lawrence and Daniel LaRusso since returning. Fans can't deny that it's been great seeing Johnny getting back together with those of the Cobra Kai that are still around, or Daniel making peace with Chozen in the last season. And the appearance of John Kreese was great as well, as will be the return of Terry Silver, who's been confirmed for the next season. Even seeing Elizabeth Shue come back was nice since it gave a bit of much-needed closure to a story that many of us grew up with. The creators of the show had this to say via MovieWeb:
"We've always had a set end game, as to where the story's going, but we've said from the beginning that we weren't sure exactly how many seasons it'll take to get there. We found, even in Season 1 when we were in the writers' room, there were so many ideas that we had that just didn't fit into those five hours in the first season, so they ended up getting pushed to the next season. There are ideas that we talked about at the beginning of the show, that showed up in Season 3 or will show up in Season 4. And then, there are ideas that just fall by the wayside. There's no added pressure to elongate the series. We're still having a blast making it. There's still a lot more story to tell, in our minds."
So it's been established that they do have an idea of how things are going to end, but with the All Valley Tournament coming up in the next season it feels safe to say that Cobra Kai might either be on its way out, or a surprise might be in store if Daniel and Johnny somehow lose and have to move on. That doesn't appear to be something that would be likely since even if some folks agree and don't see Kreese as an all-out villain, the fact that he was ready and willing to kill Daniel, remember "Time for you and Miyagi to reunite" from season 3, should make it clear that he's not a heroic figure in any way. Plus, the fact that Terry Silver is coming back makes it pretty clear that Kreese is ready to do just about anything in his power to ruin Johnny and Daniel. One could say that this story went from redemption to all-out war, and if another couple of characters make their way back the battlefield could be set, and it might even be that, if we're lucky, we'll see Mike Barnes make his way back as well.
How long it will take the show to reach its terminus is unknown, but it does sound as though the creators might have more ideas that will be forthcoming, and the ideas for spinoffs that could be on their way could also keep things rolling for a while. But who they would focus on is important since if they decide to follow those that the fans don't really identify with it could go kind of badly. Right now Cobra Kai is one of the most popular shows on Netflix and has been since season 1 when it first arrived on YouTube Red, where it became one of the most anticipated shows of the time. It's hard to believe that's been a few years now since the show came out and the story of Johnny Lawrence and Daniel LaRusso was started up again. At this point, it almost feels as though these two are destined to be mentioned together no matter if they do part ways eventually.
Season 4 is going to be wild, there's no doubt about this since the developments that took place in the third season were powerful and meaningful and did a great deal to advance the story. From Daniel making peace with an old enemy to Johnny trying to save his son, and to Kreese making that telltale phone call to lead into the next season. Things are going to pop off in a big way no doubt, and it's easy to think that season 4 will be set to top everything that's come before, no matter how high the bar is. Now that it's been announced, it's going to be hard to wait.