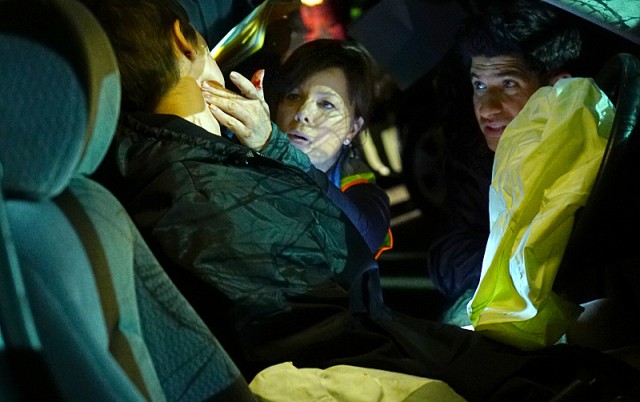 After all that happened during the Code Black winter finale cliffhanger I'm sure viewers are psyched for the show's return this Wednesday! Can't wait? Here are a few Code Black spoilers to tide you over!
This heartfelt drama has continued to pick up new fans. A quick recap of its winter finale cliffhanger "Black Tag" (before hitting the Code Black spoilers for part two – aka Code Black season 1 episode 12 –) will show why more people keep tuning in.
The basic premise of "Black Tag" is that Dr. Leanne "Daddy" Rorish (Marcia Gay Harden) – the ER Residency Director at Angels Memorial – and Dr. Neal Hudson (Raza Jaffrey) take the residents for their first experience with being a response team for a major emergency. In this clip they are all heading out in the field to work at the site of a major Los Angeles highway traffic pileup.
[youtube https://www.youtube.com/watch?v=IZs8nvz77fc?rel=0&showinfo=0&w=600&h=338]
Did you notice that within our usual group of resident doctors is surgical resident Dr. Heather Pinkney (Jillian Murray)? She was also in the last two episodes, sparing with bad boy resident Mario Savetti (Benjamin Hollingsworth) over procedures. Her little comment about the "Doctor in Charge" missing a "K" on his vest (D.I.C….) continues the idea that this is a woman who has no problem speaking her mind. That doesn't mean she always knows her heart though. Check out the press release for Wednesday's episode!
AS THE DOCTORS TREAT PATIENTS FROM THE CHAOTIC MULTI-VEHICLE ACCIDENT, A LOVE TRIANGLE BEGINS TO BUILD BETWEEN MARIO, ANGUS AND HEATHER, ON "CODE BLACK," WEDNESDAY, JAN. 13
Shiri Appleby Returns as Malaya's Ex-Girlfriend Carla Niven

"The Fog of War" — As the doctors treat patients from the chaotic multi-vehicle accident, a love triangle begins to build between Mario, Angus and Heather. Also, when Malaya learns that Carla is at the hospital, she goes against Carla's wishes and stays by her side during the delivery of her baby, on CODE BLACK, Wednesday, Jan. 13 (10:00-11:00 PM, ET/PT) on the CBS Television Network. Shiri Appleby returns as Malaya's ex-girlfriend, Carla Niven.
So, Carla's having her baby and resident Dr. Malaya Pineda (Melanie Chandra) is staying with her…. I wonder what Malaya's actual girlfriend is making of all of this? We haven't seen Eva (Jelly Howie) since she picked Malaya up after work back in episode 3, but still! Meanwhile there's going to be this love triangles thing between Mario, Heather, and resident doctor Angus Leighton (Harry Ford).
Love triangles aren't my favorite thing, but a look at this episode trailer says there will be a heck of a lot more going on besides that!
[youtube https://www.youtube.com/watch?v=EQVTZAXN6M4?rel=0&showinfo=0&w=600&h=338]
Neal is seriously worried about resident Christa Lorenson (Bonnie Somerville)! They are by far, my favorite "couple" on Code Black. In the prior episode to "Black Tag" things had gotten bumpy with their friendship because Christa (along with the other residents) helped cover for Mario going to find a patient's special needs kid who was waiting to be picked up. (I know! Mario doing something for someone else!) As such, I'm glad to see Neal losing his cool over Christa being missing. Hopefully, he'll find her, and help her get this family to safety!
[youtube https://www.youtube.com/watch?v=_UgoVZu_f2g?rel=0&showinfo=0&w=600&h=338]
I hope the son and the mom make it! In any case, I think Neal is going to be proud of how Christa handled herself out in the field. I mean when Christa fell down the ravine and dislocated her shoulder, she just had that little girl help push it back in so she could get to work!
From the trailer it also seems that Leanne may be in some trouble with Dr. Gina Perello (Christina Vidal) – the new head of emergency medicine. Will be because of how she disobeys the D.I.C. at the emergency site and goes out into the field during "lack Tag"? Possibly, but if so that may only be part of it. Even though head nurse Jesse "Momma" Salander (Luis Guzmán) having a heart attack dominated the episode "Cardiac Support," it also had: the above story with Mario, Neal and Christa, and this scene with Leanne and Gina.
[youtube https://www.youtube.com/watch?v=MpYnm4m9E9E?rel=0&showinfo=0&w=600&h=338]
Remember, Leanne didn't just not follow Gina's orders about that incubation. Later she and the audience learn she'd also got the wrong lung! Chances are Gina learned that as well. That slip up could have been grounds for a lawsuit if the patient hadn't made it. Gina is there to make sure that doesn't happen. It's a setup for a major clash.
Looking at all that's gone on, and at the spoilers for the upcoming episode I'd say that, as usual, this is going to be another intense episode of Code Black! I can't wait!
[Photo via CBS]