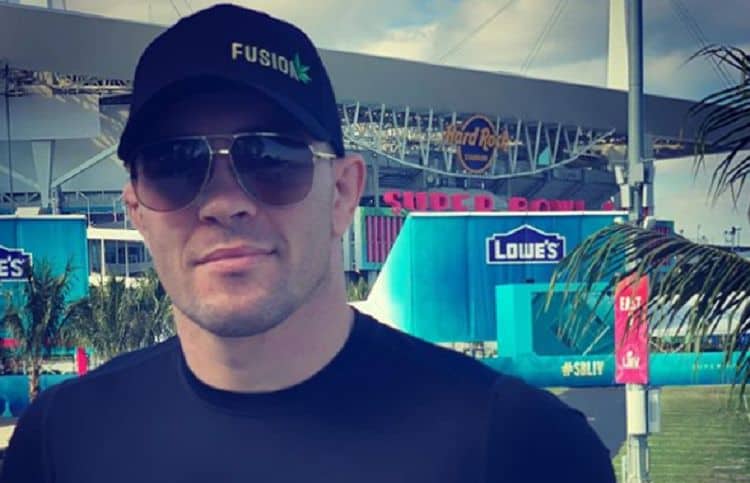 The American, Mixed Martial Artist (MMA), Colby Covington, was born on February 22, 1988 and as of Decemer 14, 2019, he has upped his rankings to #2 in the UFC welterweight rankings. Covington is not only known for his talents inside the ring, but his boisterous political opinions and mouthy comments. The fighter is one you love to hate, but you can't deny his fighting abilities and his string of wins. Covington has fought some top names in the UFC, from Robbie Lawler, Demian Maia, and Dong Hyun Kim. If you are a fan of the UFC, you are probably familiar with this high-profile fighter, but here are 10 things you didn't know about Colby Covington.
1. He had plans of being the best fighter since he was a kid
Covington has one thing on his mind, and that is to be the best fighter in the world. Since he can remember, he's loved pro wrestling and often wrestled with his young sister for fun. His idol was Ric Flair growing up and once he made up his mind to become a wrestler, he decided he was going to go all the way and become the world's best. So far, he's proving that he definitely has it in him and he's not let go of his goals.
2. His high school years catapulted him towards the UFC
He wrestled with his high school and took home several titles; from state, to winning the junior college national championship. After his high school years, Covington wrestled for Oregon State and the American Top Team, under Dan Lambert as the owner. Lambert's training in Florida further sealed Covington's position in pro wrestling since it was less than a year that he turned pro in 2012 with just five fights under his belt and 5-0 win, when he signed with the UFC.
3. He's not the most liked fighter in the cage
Covington wanted another way to get noticed in the ring. He felt like the fans weren't taking his skills and fighting talents seriously, so to gain some notoriety, Covington adopted the idea of being a mouthy, word-slinger type of fighter, which definitely seemed to gain a new image for himself. UFC fans began to recognize him as an antagonizer and know him as a 'love-or-hate' kind of fighter. He definitely is not the most liked fighter in the cage, due to his rude comments and bouts of spouting off at the mouth, but he says he know who he is and wants to be, and isn't stopping until he reaches his goals.
4. He's an outspoken conservative
It's not secret that Covington is a huge fan of President Trump and his family. He is a big supporter and quite outspoken about it. He has often voiced his support for the president and even promised he would meet the president one day and give him his trophy belt. He got that opportunity in 2018 after he won the interim title in a defeat against Rafael dos Anjos, according to the Washington Times.
5. He loves to hang out with our soldiers
Aside being a big supporter of the President and our country, Covington is a huge supporter of our soldiers, the guys who he considers to be the true heroes. He not only supports them in his heart and mind, but  loves spending time with them to show them his respect. He even took some time in May during fleet week in New York, and spent the entire week with our troops on the USS New York. He even commented that the experience was the second best time in his life.
6. He spoiled Marvel movie endings on Twitter
No one likes a spoiler and that's exactly what you've got if you follow Covington on Twitter. Yep Covington took to his social media and spoiled the a few movies for fans, and it wasn't too cool. Avengers: Infinity War, and Star Wars: The Last Jedi, were two movies that he dropped the goods on.
7. He learned to antagonize fans for attention
When his fighting wasn't enough, Covington realized he needed a new game plan to get the fans interested in him. His skills were there, but his fights were often a fizzle, in the end, which is what drove him to take on a new persona, one that mimicked Chael Sonnen, an MMA fighter who knew how to arouse the fans with his fight words, according to ESPN. Covington's new version of himself, the one he created that's hard to know where the personality ends and the persona starts, definitely began to earn him a name, and it wasn't always the most respectful.
8. Kept fighting, despite a fractured mandible
He's tough and despite the haters hating them, they know how tough Covington is. Although he gave the fight against Usman his all in the T–Mobile arena at the end of last year, receiving a non-displaced midline mandible fracture may have been what put it over the top for him in not being able to keep the fight in his favor. Despite the pain with continued punches being made to the broken jaw, he fought through to the end but wound up losing to Usman with just 50 seconds left on the fight.
9. He's had a couple run-ins with the law
It probably won't surprise you that someone with the fighting abilities that Covington possess, that he's been caught using them outside the fighting ring, and it's not the first time a pro fighter has been arrested for hitting a regular guy (and sometimes a significant other). On May 23 2010, Covington was arrested for punching a guy whom he had been in a verbal altercation with, but this wasn't the only run-in with the law Covington has had. During his college years, he was arrested for driving under the influence when he was found to have, higher than the legal limit of alcohol in his system, for driving.
10. He had an empty wallet when he started
It wasn't always an easy road for Covington. As a matter-of-fact, Covington's plans of being the best fighter started a little rocky and he always keeps those rocky, low points of his life in the forefront of his mind, according to an article on UFC News. He says he would walk to to the gym for training, with only his gym clothes he was wearing, and no money. But it was these struggles that kept him going and he's never 'doubted his journey.'