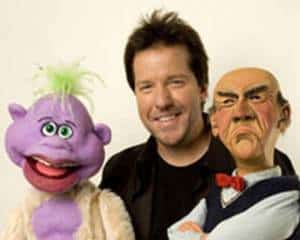 Ventriloquist Jeff Dunham has enthralled audiences everywhere with his comedic puppet pals, which include an anthropomorphic jalapeno and a deceased terrorist. He enthralled Comedy Central enough that in October, they gave him a regular primetime series, The Jeff Dunham Show. And while the premiere episode of the series did give Comedy Central a record-setting debut (with 5.3 million viewers), viewership slowly fell, with the first season's finale only being watched by 1.3 million viewers, making the critically panned series a disappointment for Comedy Central, who announced today that the series would not return for a second season.
The network, which recently cancelled Reno 911! earlier this year, announced that there were currently no plans to continue the show for a second season, according to their representative Steve Albani. This comes after the surprise success of Dunham's 2008 Christmas special, Jeff Dunham's Very Special Christmas Special, which garnered the network 6.6 million viewers, its highest ratings ever.
However, that doesn't mean that Dunham will no longer be working with Comedy Central. On the contrary; his stand-up specials have been well-watched, and Comedy Central intends to fulfill their contract with Dunham. The multi-platform contract, which he signed earlier this year (after the aforementioned Christmas special), ensured that Dunham would get a live tour, stand-up special, DVDs and other consumer products released. Jeff Dunham: Spark of Insanity, his stand-up special, premiered earlier this year, and was released on DVD as well.