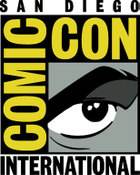 With Comic-Con 2009 kicking off in less than two weeks, the updates and specifics are starting to be released with greater frequency.
Below is your weekly television panel schedule update, including guests and screenings that have been confirmed thus far.
I will be attending and reporting the details here about the panels that are denoted by an asterisk.
WEDNESDAY, JULY 22

Human Target, V & Vampire Diaries

Ballroom 20, 6pm-9pm
Full pilot screenings of each
THURSDAY, JULY 23

Burn Notice*

Ballroom 20, 2:30pm-3:30pm
Guests: Bruce Campbell, creator/exec prod Matt Nix, executive producer Alfredo Barrios Jr.
Dexter*

Ballroom 20, 5pm-6pm
Guests: Michael C. Hall, Julie Benz, Jennifer Carpenter, executive producers John Goldwyn, Sara Colleton, Clyde Phillips & Melissa Rosenberg
Legend of the Seeker

Room 6DE, 4:45pm-5:45pm
Guests: executive producers & cast [names not confirmed]
The Middleman*

Room 6A, 11:15am-12:15pm
Guests: Matt Keeslar, Natalie Morales, Mary Pat Gleason, Britt Morgan, Jake Smollett, Mark Sheppard, Brendan Hines, producer Sarah Watson, writers Jordan Rosenberg, Margaret Dunlap & Andy Reaser, creator Javier Grillo-Marxuach
Cast reunion reading & lost episode table read, "The Doomsday Armageddon Apocalypse"
Psych

Ballroom 20, 1:15pm-2:15pm
Guests: James Roday, Dule Hill, Maggie Lawson, Tim Omundson, Corbin Bernsen, creator/exec prod Steve Franks
Robot Chicken with Titan Maximum

Ballroom 20, 3pm-4pm
Guests: co-creators Seth Green & Matthew Seinreich, writers Tom Root & Doug Goldstein, Chris McKay, Breckin Meyer, Kevin Shinick, Mike Fasolo, Dan Milano
Entertainment Weekly: Wonder Women – Female Power Icons in Pop Culture*


Ballroom 20, 3:45pm-4:45pm
Guests: Sigourney Weaver, Elizabeth Mitchell (Lost, V) & Kristen Bell (Veronica Mars, Heroes)
FRIDAY, JULY 24
24*

Ballroom 20, 2:15pm-3pm
Guests: Kiefer Sutherland, Mary Lynn Rajskub, Anil Kapoor, Katee Sackhoff, executive producer Howard Gordon
Batman: The Brave and the Bold; animated

Room 6DE, 10am-11am
Guests: Diedrich Bader, John DiMaggio, producer James Tucker, story editor Michael Jelenic, voice director Andrea Romano, executive producer Sam Register
Screening of "Mayhem of Music Meister" episode featuring voice of Neil Patrick Harris
The Big Bang Theory

Ballroom 20, 1pm-2pm
Guests: Johnny Galecki, Jim Parsons, Kaley Cuoco, Simon Helberg, Kunal Nayyar, executive producers Chuck Lorre & Bill Prady
Bones*

Ballroom 20, 3pm-3:45pm
Guests: Emily Deschanel, David Boreanaz, executive producer Hart Hanson
Caprica/Battlestar Galatica: The Plan

Ballroom 20, 11:45am-12:45pm
Guests: Esai Morales, Edward James Olmos, executive producers Ronald Moore, David Eick & Jane Espenson
Dollhouse & Joss Whedon Q&A*

Ballroom 20, 4pm-6pm
Guests: Eliza Dushku, executive producer Joss Whedon
Screening of episode "Epitaph One"
Eureka

Room 6BCF, 3:15pm-4:15pm
Guests: Salli Richardson-Whitfield, Erica Cerra, Neil Grayston, executive producer Jaime Paglia
Fairly OddParents (Nickelodeon)


Room 5AB, 12:30pm-1:30pm
Guests: creator Butch Hartman, story editor Ray DeLaurentis, art director George Goodchild, producer Dave Thomas
FlashForward*

Room 6A, 11:45am-12:45pm
Guests: Joseph Fiennes, John Cho, Jack Davenport, Sonya Walger, executive producers David S. Goyer, Brannon Braga & Marc Guggenheim
Jericho

Room 7AB, 5pm-6pm
Guests: Lennie James, executive producers Dan Shotz, Karim Zreik, Jon Steinberg, writer Robert Levine
Details about Season Three: Civil War comic book continuation of series storyline
The Middle

Hilton Bayfront Indigo Ballroom, 12pm-1pm
Guests: Patricia Heaton
Pilot screening
The Mighty Boosh

Room 6A, 4:45pm-5:45pm
Guests: Julian Barratt, Noel Fielding, Michael Fielding, Rich Fulcher, Dave Brown
Past Life

Room 6A, 2:15pm-3:15pm
Guests: Kelli Giddish, Nicholas Bishop, Ravi Patel, executive producers David Hudgins & Lou Pitt
Pilot screening
The Prisoner

Room 6BCF 11:30am-12:30pm
Guests: Jim Caviezel, Jamie Campbell Bower, Lennie James, writer Bill Gallagher, AMC series production VP Vlad Wolynetz
Stargate Universe

Ballroom 20, 10:30am-11:30am
Guests: Robert Carlyle, Brian J. Smith, Elyse Levesque, David Blue, Alaina Huffman, Jamil Walker Smith, Ming-Na, creators Brad Wright & Robert Cooper

TV Guide Magazine: Sci Fi Hot List

Ballroom 20, 6:15pm-7:15pm
Guests: John Cho & Scott Wolf (V), Johnny Galecki & Jim Parsons (The Big Bang Theory), Zachary Levi (Chuck), Rebecca Romijn (Eastwick), Allison DuBois (the real Medium), Marc Guggenheim (producer, FlashForward), Kevin Williamson (executive producer, The Vampire Diaries, Scott Peters (executive producer, V)
SATURDAY, JULY 25
Chuck

Ballroom 20, 10am-11am
Guests: Zachary Levi, Yvonne Strahovski, executive producer Josh Schwartz
The Cleveland Show

Ballroom 20, 12pm-12:45pm
Guests: Sana'a Lathan, Kevin Michael Richardson, executive producers Seth MacFarlane, Mike Henry & Rich Appel
Doctor Who: Planet of the Dead & Torchwood: Children of Earth screenings
Eastwick

Room 6A, 10:15am-11:15am
Guests: Rebecca Romijn, Lindsay Price, Jaime Ray Newman
Full pilot screening
Family Guy

Ballroom 20, 11:15am-12pm
Guests: Seth Green, Mila Kunis, executive producer Seth MacFarlane
Fringe*

Ballroom 20, 4pm-5pm
Guests: Anna Torv, John Noble, Josh Jackson, producers Alex Kurtzman & Roberto Orci, executive producers Bryan Burke & JH Wyman
Futurama

Ballroom 20, 1pm-1:45pm
Guests: Billy West, Katey Sagal, John DiMaggio, Maurice LaMarche, executive producers Matt Groening & David Cohen
Glee

Hilton Bayfront Indigo Ballroom, 1:30pm-3pm
Guests: Matthew Morrison, Lea Michele, Cory Monteith
New episode screening
Heroes

Hilton Bayfront Indigo Ballroom, 3:15pm-4:15pm
Guests: Jack Coleman, Masi Oka, Adrian Pasdar, Zachary Quinto, Robert Knepper, Dawn Oliveri, Ray Park, Madeline Zima, creator Tim Kring
Human Target

Room 6BCF, 4:45pm-5:45pm
Guests: Mark Valley, Chi McBride, Jackie Earle Haley
Lost*

Hall H, 11am-noon
Guests: executive producers Carlton Cuse & Damon Lindelof and surprise guest
Mythbusters

Room 6BCF, 7:15pm-8:15pm
Guests: Jamie Hyneman, Adam Savage, Tory Belluci, Grant Imahara
Sanctuary

Hilton Bayfront Indigo Ballroom, 12:30pm-1:30pm
Guests: Amanda Tapping, Robin Dunne, executive producers Martin Wood & Damian Kindler
The Simpsons

Ballroom 20, 1:45pm-2:30pm
Guests: Matt Groening, Al Jean, Matt Selman, Mike Anderson
True Blood*

Ballroom 20, 5:15pm
Guests: Anna Paquin, Stephen Moyer, Nelsan Ellis, Rutina Wesley, Sam Trammell, Alexander Skarskard, Michelle Forbes, Deborah Ann Woll, writer Charlaine Harris, executive producer Alan Ball
V*


Ballroom 20, 2:45pm-3:45pm
Guests: Elizabeth Mitchell, Scott Wolf, executive producers Scott Peters & Jeffrey Bell
Vampire Diaries

Room 6BCF, 6pm-7pm
Guests: Ian Somerhalder, Paul Wesley, Nina Dobrev, executive producer Kevin Williamson
Warehouse 13

Room 6A, 2:15pm-3:15pm
Guests: Eddie McClintock, Joanne Kelly, Saul Rubinek, Allison Scagliotti, executive producers Jack Kenny & David Simkins
SUNDAY, JULY 26
American Dad

Ballroom 20, 11:15am-12:15pm
Guests: Seth MacFarlane, Wendy Schall, Dee Bradley Baker, executive producers Mike Barker & Matt Weitzman
Being Human & Torchwood

Room 6BCF, 2:15pm-3:45pm
Guests: John Barrowman, Russell Tovey, Lenora Crichlow, Aidan Turner, executive producers Russell Davies, Julie Gardner & Toby Whithouse, director Euros Lyn
Doctor Who

Ballroom 20, 10am-11am
Guests: David Tennant, executive producers Russell Davies & Julie Gardner, director Euros Lyn
Ghost Whisperer

Room 6BCF, 1pm-2pm
Guests: Jennifer Love Hewitt, David Conrad, Christoph Sanders, Jamie Kennedy, Camryn Manheim, executive producers Ian Sander, Kim Moses & PK Simonds
Phineas & Ferb

Room 6DE, 10am-11am
Guests: Dan Povenmire, Jeff Marsh, Vincent Martella
Smallville

Room 6BCF, 10:30am-11:30am
Guests: Erica Durance, Justin Hartley, Cassidy Freeman
Supernatural

Room 6BCD, 11:45am-12:45pm
Guests: Misha Collins, Jim Beaver, executive producer Eric Kripke
Follow me on Twitter for frequent panel updates, and stay tuned for more details!
Sources: comic-con.org, sci-fi wire, airlock alpha, the watcher
Jo is a pop culture writer who loves television and covers Lost extensively. She is currently enjoying The Cleaner, Nurse Jackie, True Blood and Weeds while impatiently awaiting Comic-Con 09. Email: jo [at] jopinionated [dot] com.