I am thrilled to have the opportunity to provide exclusive, on-the-scene coverage of Comic-Con 2009 for all of you on behalf of TVOvermind.
The following is a brief outline of the television panel schedule (special thanks to our friends at seat42f for this information); I am aiming to attend those denoted by an asterisk:
Thursday, July 23
Dexter (Ballroom 20, 5pm-6pm) *
The Middleman (room & time TBD) *
Psych (room & time TBD)
Friday, July 24
The Big Bang Theory (Ballroom 20, 1pm-2pm)
Caprica (room & time TBD)
Dollhouse (Ballroom 20, time TBD) *
Eureka (room & time TBD)
FlashForward (Room 6A, 11:45am-12:45pm) *
The Mighty Boosh (Room 6A, 4:45pm-5:45pm)
Past Life (Room 6A, 2:15pm-3:15pm)
Stargate Universe (room & time TBD)
Saturday, July 25
Chuck (Ballroom 20, 10am-11am)
Doctor Who: Planet of the Dead & Torchwood: Children of Earth screenings (Room 6A, 7:30pm-10:30pm)
Eastwick (Room 6A, 10:15am-11:15am)
Fringe (Ballroom 20, 4pm-5pm) *
Human Target (Room 6BCF, 4:45pm-5:45pm)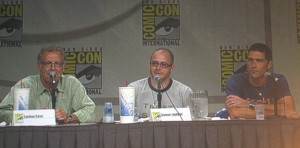 Lost (Hall H, 11am-noon) *
Mythbusters (Room 6BCF, 6:15pm-7:15pm)
Sanctuary (room & time TBD)
V (Ballroom 20, 2:45pm-3:45pm) *
Vampire Diaries (Room 6BCF, 6pm-7pm)
Warehouse 13 (room & time TBD)
Sunday, July 26
Being Human & Torchwood (Room 6BCF, 2:15pm-3:45pm)
Doctor Who (Ballroom 20, 10am-11am)
Smallville (Room 6BCF, 10:30am-11:30am)
Supernatural (Room 6BCD, 11:45am-12:45pm)
I will be following Comic-Con news and posting panel updates here in the near future, including dates and locations for Ghost Whisperer, Legend of the Seeker, The Prisoner and True Blood panels. In addition, unconfirmed panels that are expected to appear include 24, Battlestar Galactica, Bones and Glee.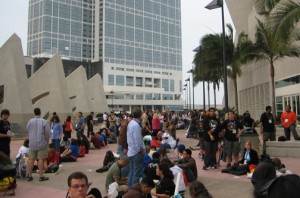 The lines will be long, but as I learned last year…they are well worth the wait. The above photo represents only a fraction of the thousands that gathered for the Lost panel; given that this will be the last year for the series at Comic-Con, I will probably secure my spot in line the night before.
If you're interested in frequent updates from San Diego next month, I recommend that you follow me on Twitter; I will be sharing details about my experiences and journey, 140 characters at a time.
[Jo is a pop culture writer who loves television and covers Lost extensively. She will be tuning in to The Cleaner, Entourage, Hung, Mad Men, True Blood and Weeds this summer while impatiently awaiting the new slate of shows scheduled for release in the fall.]