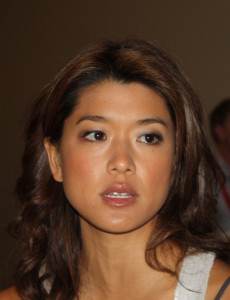 This morning before the official Hawaii Five-O panel at Comic-Con, I had the opportunity to speak with the enthusiastic cast and crew. We were then treated to exclusive new footage of the show, which was fast paced and very entertaining. Although this is not your father's version of Hawaii Five-0, it definitely maintains the spirit and original theme. As a matter of fact, last month they gathered the original Hawaii Five-0 orchestra to record the iconic track for the new series, which debuts Monday September 20th at 10pm est on CBS.
Without question, Daniel Dae Kim and Grace Park have a tremendous presence about them; they are television stars in every sense of the word. Kim and Park are aware of and embracing the built-in fan bases that are accompanying them to Hawaii Five-0, from Lost and Battlestar Galactica, respectively.
Stay tuned for more photos and details from their interviews, as well as from executive producers Peter Lenkov (24), Robert Orci and Alex Kurtzman (Star Trek, Fringe, Transformers), and director Len Wiseman (Underworld)!