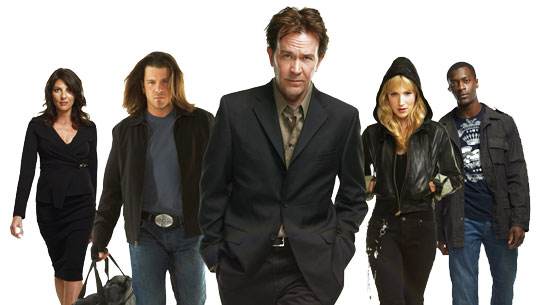 TNT's Leverage is a phenomenon. I can say that because the show was announced as appearing at Comic-Con only five days before the convention and the cast still appeared to a huge crowd. After the fact, series co-creator Chris Downey, along with cast members Timothy Hutton (Nate), Beth Riesgraf (Parker), Christian Kane (Eliot) and Aldis Hodge (Hardison), as well as guest star Wil Wheaton (Chaos), dropped in to discuss…well, just about everything!
Timothy Hutton (Nate Ford) & Beth Riesgraf (Parker)
Leverage is still such a fascinating show three seasons in. How do you keep things at that high level?
Tim: The scripts are what keep it fresh. We like the writing so much and the characters that we're playing. There are so many possibilities for cons that we can do. We read the scripts and we all talk after. This show, every time we set out to do one, it's its own little movie, and they write these other characters that we have to play, and that's what keeps it fresh.
Beth: I'd definitely say the characters too. Just when you start to feel like you have one thing that you're playing, they throw something else at you and as an actor it keeps your chops up. You don't get used to the same thing each episode. It's always different.
Tim: And we, from day one when we first did the pilot in Chicago, we just enjoyed working together so much. You hear stories about shows going into the third, fourth season where it becomes a grind and we haven't felt that at all. It still feels like we're in the first season.
I asked Christian Kane this, have you two seen the Leverage roleplaying game yet?
Tim: No.
I got to play you. Then I was starting to lose and I was screaming, 'I can't lose, I'm an Oscar winner!'
Tim: We saw some of it at the convention in Portland. They were putting together this board game. That was just the beginning of it. I guess it's developed since then.
But those are the kind of things usually reserved for niche kind of shows — what's it like being on a show that has that kind of popularity?
Tim: We were having this discussion, it was just very surreal and it still is. When you're doing the show, you're kind of in a vacuum.
Beth: I was just going to say, when you're doing it you're so in it, like time and space doesn't really exist outside of set because you live and breathe the job. It's like one little family. I go back home and it's like 'Oh, yeah, I have a life outside of Leverage.'It's like a time warp.
You have probably one of the smartest teams of writers on television at least from the level of the finished product.
Tim: The writers do an amazing job of making each voice so distinct that you could take a Leverage script, take the name of the character off and know who's speaking all through the script. You can say 'That's clearly a Parker line,'or 'That's clearly a Hardison line.'
And it seems like Leverage kind of helped start the trend of successful original series on TNT, between that and things like The Closer and Saving Grace. What's it been like to be part of that?
Tim: Their belief in scripted drama is pretty powerful, especially as the networks are moving more and more toward reality based programming. So it's nice to be in this group right now, because it does feel like the beginning of something. A show like Leverage, I don't know if a network would know what to call it.
Beth: We went to the upfronts the first time, and Michael Wright was just talking about their plan for the future, and how they wanted to have original programming every night of the week. They've just built up since we've been with them. It's been cool.
Chris Downey (Co-Creator) & Wil Wheaton (Chaos)
Wil, would you ever consider having your own show? I don't know. I kind of have a really great career right now. I get to play wonderfully crafted villains on a wide variety of shows, and it's almost like being employed full-time, without the grind that is typically associated with being employed full-time, so I still have to write and I still have time for my family, and I have these wonderful extended families on the set. While it would certainly be nice to earn the kind of money that you earn when you have your own show, I'm just incredibly grateful for what I have now.
On technology on Leverage:
Wil: I was talking about how we do Leverage digitally with the red camera and how it's kind of like doing a play, because we never really have to stop. We can kind of move around and just go 'Wait,'and do the line again. We really get to play a lot. And it takes a ton of the pressure off the actors.
Chris: The most expensive thing in a film production is film stock. You're constantly stopping a take because we've run out of film. That never happens in digital. And it's changed acting, I think, because it becomes more improvisational. It opens you up to throwing a different line in if you suddenly get inspired. The look of it is every bit as good as film.
Wil: And the camera is silent. Most people don't know, cameras are loud. Being able to have a camera and not even know that it's there, it allows an intimacy to performances that I never realized I missed. It has fundamentally changed the way we do our jobs.
Does the fact that you're here mean we might see Chaos show up again?
Wil: I sure hope so.
Chris: Even with the cuffs slapped on him, he's got some hack up his sleeve. He's very slippery.
We were discussing with Tim and Beth how your show has enjoyed the popularity normally common to the sci-fi/fantasy type genre shows.
Chris: A lot of it is just the creators behind the show. We have John Rogers, who's written comic books. Dean Devlin, who's done some of the biggest sci-fi movies [like] Independence Day, Stargate. They understand that world. So right off the bat they wanted to do those kinds of things. And I think the web has just kind of created a dialogue between fans and the creators of the show that has just never happened before. We want to hear from fans.
The show is really sort of one elaborate prank phone call. We just wanted to make sure the show is fun.
Christian Kane (Eliot Spencer) & Aldis Hodge (Alec Hardison)
Christian on his stint on Angel: It's fun to come to work every day and try to kill your best friend. Not unlike this show.
Which begs the question — what's your favorite part of being on this show?
Aldis: Every week we look forward to doing something different. It's like doing a whole new show. As an actor, that's like candy. You open up your imagination and you can explore as many different roles as possible. It's great grounds for learning and building your skills as an artist.
Christian: It's not other shows where 'Who did it?"It's this guy."Let's put him on trial, and we win.'We run a con, so at the end of the episode, we have to erase ourselves from whatever we did and we start from scratch. There's no monotony going on here whatsoever.
Is there any stress involved knowing you have to tackle something new every seven or eight days?
Christian: It keeps us on our toes.
Aldis: We've done this show for three seasons now. That means I've been doing this for almost four years. If I had to go to work every day, looking forward to wearing a suit or a cop uniform, I might lose my mind. The beauty of this is I don't know what's coming and that's the thing I relish.
Christian: People don't understand, they think that actors have a cushy life. Yeah, we make some money but we work 10 to 12, 14, 15-hour days. It's hard work and you have to show up every day. In that sense, the curveballs are welcome and refreshing, because 12 hours can get long.
Aldis: And you have more tricks in your arsenal to do whatever else comes after.
So do you have any favorite aliases you've played so far?
Aldis: Iceman.
Christian: I hated that character. I loved him doing it, but I hated that character. It just made me so mad. I call him Iceman all the time. I loved him playing that character, but Eliot hated Iceman.
Aldis: I played a PTSD war vet.
Christian: The whole time he's doing it and I'm going 'What's wrong with you?'
Aldis: Everyone's looking at me like 'Al, is there something wrong with your eye?'and I'm like, 'Yes, there is, purposely. This is what's going to happen.'
Christian: I don't know. Maybe the IT guy. That was my tribute to Kurt Russell.
We've seen some steps forward in the Parker/Hardison relationship this season. Any chance this is the year they finally get together?
Aldis: I've been begging for it for years. It's a slow burn.
Christian: Or maybe Eliot hooks up with Parker. You never know. No, it wouldn't make sense.
Actually, there are some people who want an Eliot/Parker pairing. I am not one of them.
Christian: Yeah, Eliot and Parker…that's not good. Parker and Hardison, they've gotta be. Hardison's got a big heart. You can't see it.
Aldis: If Hardison veers off the clear path, he's going to look like a douche. But it's definitely something I'm looking forward to. It's going somewhere. You're not getting cheated out of that relationship. It's just not going to happen right now, because then what's left?
Aldis, I was watching The Game on DVD and had no idea you were in the original pilot for that. I was. I was originally cast as the character Derwin [played eventually by Pooch Hall]. But you know what, I'm a firm believer in God and the thing is, I understand it now, if I was on The Game, I wouldn't have had Leverage. And I love this job.
Did you get to do a lot of work with Coby Bell? I just thought to myself that you and Coby would be a hilarious combination. The thing about Coby is, he's a great actor, amazing talent and he's very fun. I think we could have definitely worked well together. It would be great. Oddly enough, I worked with his father for two and a half years on Broadway, so he kind of knew me before he knew me. But I think the chemistry was already there. He's a good guy.