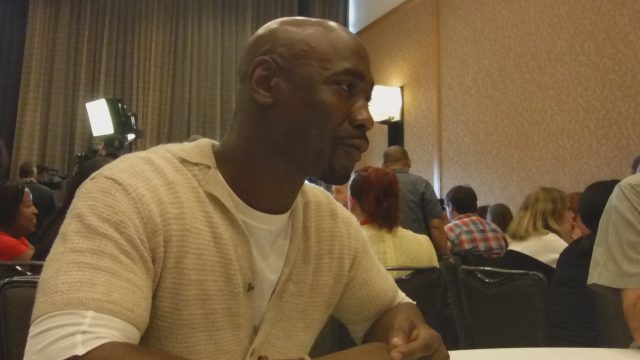 Last season the FOX hit show Lucifer explored what would happen when you put a devil and an angel in a room together, then make their relationship more contentious by making them brothers. Season 2 will explore what happens when you bring God's sons together for a common goal: their mother quite literally from hell. At this year's Comic-Con International actor D.B. Woodside talked about playing God's 'good' son, the difference in playing his character from the first season to the second, and how his onscreen counterpart will change in the wake of a hellish family reunion.
Season 1 introduced Woodside's character Amenadiel as God's more loyal son in comparison to Tom Ellis's titular devil. Originally tasked with taking Lucifer back to hell, Season 2 will have the brothers coming together instead. Right off the bat the brothers are tasked by their father with finding and containing their mother Charlotte, God's ex-wife who has escaped from hell. This is easier said than done since 'Mom' "brings out a side of Amenadiel that we really haven't gotten a chance to see… we're gonna get a chance to see him be a lot more fragile" says Woodside. "I think Amenadiel has always been the son who was much closer to his father. I don't think he ever really had any problems with his mother, I just don't think he ever had much of relationship with her." Which banks the question, does Amenadiel have what it takes to bring his mother back to hell, given his lack of success at being able to do so with his brother? "I can say that getting Lucifer back to hell is no longer a priority. The priority is getting her (Mom) back, we both just might have different ways of going about it." Anyone else think Mom's return should culminate in a family therapy session with Dr. Linda?
Though Woodside greatly enjoys working on Lucifer, he admitted that he felt a bit uncomfortable in the role in the beginning. "The first season was a much harder season for me to wrap my head around…[now] it just feels like I have a much better grasp of this character and it's much easier for me to have a focus." This is helped by the additions of Tricia Helfer and Aimee Garcia, who bring even more energy to the set. Helfer in particular will be giving Woodside's character a very specific focus in dealing with his relationship with his mother.
Outside of his family issues, Amenadiel's time on Earth does peel back other layers, specifically romantic ones. "I think he is in love with Maze" says Woodside of his devilish hook-up. Don't think that the feeling is going to be reciprocated though (see our interview with Lesley-Ann Brandt for more on her relationship, or lack thereof, with Amenadiel).
Tune in to see how Amenadiel deals with the changes in his life when Lucifer returns September 19 on FOX. Click below to see our full interview with D.B. Woodside.