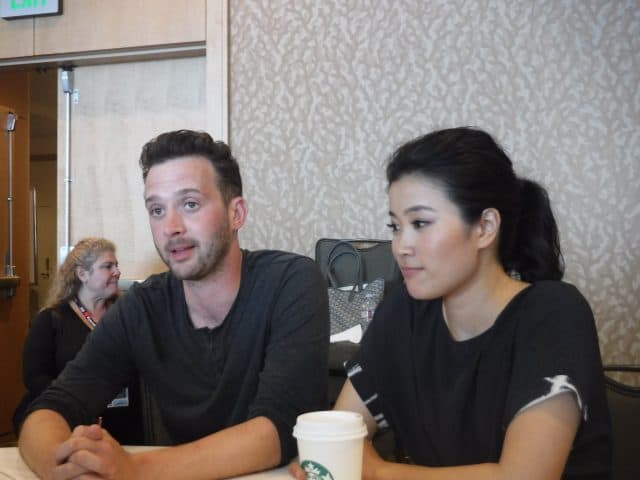 If Comic-Con is proof of anything, it's that shows about the really smart, the really awkward, and the really outlandish are the biggest hits. When the CBS hit show Scorpion returns on October 3, it's promised to be bigger, better, and more emotional than ever. Last month at Comic-Con we talked to cast members Jadyn Wong, Eddie Kaye Thomas, and Executive Producer Nicholas Wootton, who promised that the action and emotion will not be dragged out when the show returns.
According to Wootton, the opening will actually be a jam-packed two hour premiere where only a few hours have passed following the events of the Season 2 finale. "We have sufficiently kicked up so much dust just with that one admission at the end of last season from Happy, we have a long way to clean this up…it reverberates out so significantly with the other characters." To refresh your memory, that last minute bombshell was that Happy is married, which she forgot to tell Toby until after he was already down on one knee himself. "When we pick up with Toby he's even deeper into that bottle of tequila he was drinking" says his portrayer Thomas. It doesn't get any better when everyone finds out who Happy is married to. The details of this revelation are being kept tightly under wraps, only that Happy is genuinely conflicted according to Wong herself.
The consequences of this revelation shake up the entire team, as was evidenced by Walter's decision to follow his heart as a result. "Early on there's a big personal turn for all of these characters, it's a big bombshell for all of them. We don't do big emotional bombshells. Last season we did one of the end of the season, there's gonna be another one coming up, a couple of them literally on the same page. There's more of the emotional stuff we really haven't had." Indeed, Walter does make it to Paige, but there's a question of whether or not he can actually follow through on what he's feeling. "His quest for emotional maturity is ultimately the arc of the series. How does he go from being this robot to a human being? It's gonna be much more forefront this year than the last two seasons [for all the characters]" says Wootton. If you need more proof of this, a great example of that will be the love interest Cabe will be getting this year.
The adults don't get to have all the fun though. Their pre-adolescent protégée Ralph, who often has more common sense than they do, will be getting a huge story in the beginning of the season.  "We have a great episode for him early on where he is sort of a translator for a non-speaking Autistic boy who gets lost in the city. We're very excited for this episode and his involvement in it. You see how sensitive and involved this actor is so we were very confident in putting him in what is going to be a really challenging episode for him because it is a very sensitive topic." It's an unbelievably brilliant move on the writers' part as Ralph grows up on the show. Right now "Ralph has all the brilliance of these characters and none of the neuroses", but Wootton says because he will be getting into his teens soon, he will get there.
Outside of all these emotional twists, the action is going to be better than it's ever been. In addition to the amount of things put together for the season premiere, "we're doing something in our third episode that we thought we couldn't do, we just didn't think we were technologically able to" says Wootton. "It's nonstop and yet in the middle of it it's this absolutely poignant beautiful personal story where he [Walter] has hypoxia from loss of oxygen and starts hallucinating and you're gonna see this beautiful dream sequence that he has…I would never have thought we could pull anything like that off."
Ultimately Season 3 promises to be mind-boggling for its fans, much as it is for its cast members. "It's not just the case to case every week, it's the relationships and the more internal life of the characters. That's what the fans can relate to" praises Wong.
Season 3 of Scorpion premieres Monday, October 2 on CBS.