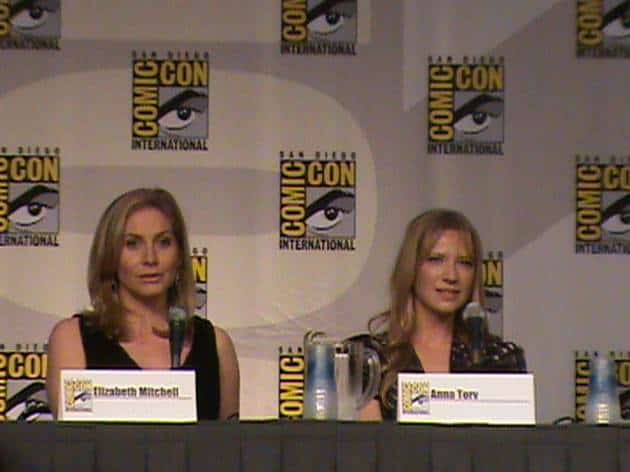 A great panel Friday afternoon was the Entertainment Weekly panel Women Who Kick Ass, starring Elizabeth Mitchell of Lost and V, Anna Torv of Fringe, Mary Elizabeth Winstead and Ellen Wong of Scott Pilgrim vs the World, and Jena Malone of Sucker Punch.
Moderator Nicole Sperling asked the women if they were into comics or other geek stuff when they were kids. Torv used to dress up as Wonder Woman, while Malone and Wong preferred the Disney princess/heroines. Asked how hard it has been to get roles, Mitchell said she auditioned seven times and fought hard to play Juliet. On the other hand, she was given the role of Erika in V, which she found more terrifying. For Wong, nothing ever just falls into your lap, one has to fit for everything. She just tried to be herself in her audition for a Knives Chau, because she felt close to the character. Winstead said she would have fought hard to pay Ramona in Scott Pilgrim, but she was actually given the role. She would have fought for the role because Ramona is kind of tragic, but knows how to kick ass.
Do they find that because of the popular of sci-fi, they need to open themselves up to a different type of role? Mitchell has alwya found great female characters in sci-fi novels and stories, so she had always been open to the genre. Wong is trained in tae kwon do, which she has found helpful recently. Asked about genre cliches, Malone said that she hateqs cliches in general, and not just those for women. Male characters that are one-note action guys aren't very interesting; subtlety is necessary in all roles.
Do you expect to be role models? Malone says yes, each character can be a mold for future generations, but it is important that each actress bring their experiences to the role to create that mold. Torv says that sometimes it's great when the actress can take a piece of the character to incorporate into her own life. Mitchell wishes she could take away the ability to come up with a perfect comeback at all times. For Winstead, Ramona is a complete opposite from her, so she would like to take a bit of her "don't care" attitude.
What was working with Quentin Tarantino like? It gave Winstead a great confidence that someone like him would want her in one of his films. He wouls sit down with her for an hour to tell her all the great things she did in a given scene, which was great for her as an actress. What is the wildest on-set experience you have all had? Torv said that she was surprised what they are sometimes allowed to do. She just had to fight herself in Fringe. Malone was 30 feet in the air, upside down, reloading a massive machine gun. Mitchell said that she got dangled in wells, which is not as impressive as Malone's story.
For the TV actresses, how much input do they have on their characters? Torv is still learning the give and take, as this is her first American TV series. Then again, she likes trying to justify what is on the page. Mitchell said that she talks all the time, but not as much on Lost, except during the episode "The Other Woman.". She was nervous about the bikini, and the affair with Goodwin, but the creators told her to just go with it. Of course, the episode was a huge hit, thanks to all involved. Wong said that for Scott Pilgrim they were encouraged to speak up and help mold the characters.
How has it been for Mitchell to go from Lost to V? It's been very interesting as the show has tried to find its feet. It's an uphill challenge sometimes, but she has enjoyed that Erika is a mother and a woman whose strength is never questioned. Is there pressure to do your own stunts? Winstead responds that as far as she knows, most actors want to do their own stunts, and hated the time she was out sick for a couple weeks, thinking that she was missing something. Are there any roles you wish you could have played? Mitchell tends to be so captivated by TV and movie performances that she can't imagine ever being in that role.
On to the audience Q&A: How do you feel about the idea that actresses need to be perpetually young? Mitchell and Torv don't think actresses need to be young!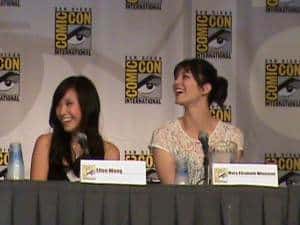 Congratulations to Torv for portraying Olivia's strength, yet her sensitivity. Do any of you play sports to keep in touch with your physicality? Thiey rurally don't, but Torv always loved watching rugby in her native Australia. Wong loves her martial arts training to relieve stress and gain strength.
Is Sucker Punch able to balance the supreme action with the narrative? Malone thinks that combination of action and narrative is what makes the piece so great.
What is your outlook on female characters having to be vixens? Winstead just filmed a movie where she plays a paleontologist that gets to kick alien ass, where in between takes the director told her not to get too pretty. Malone says that we've just entered the time where male leads don't have to be Adonises, so females shouldn't be too far behind.
How do you get over the fear that you're just as capable as a man? Torv says that she didn't think Olivia had to prove herself to Broyles that she could be as tough as a man, but rather that she only fought to go her own way. So she never had that fear.
Last question: Mitchell is on the questioner's husband's "Allowed List.". Have you ever had to use your training in real life? Mitchell jokes that she does a lot of running in high heels down the street. Malone says that most of their fighting is like dancing, so unless she gets attacked by a stuntman who knows the choreography, her training is kind of useless.
Alright, that's it; a great panel with some amazing actresses. Look out for their projects in the coming months.