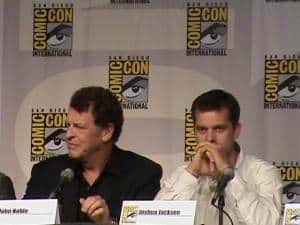 Fringe had an excellent second season. The third season premieres September 23 on Fox. We are live blogging the panel, so keep refreshing!
3:30pm. A highlight reel from last season is shown. Ken Tucker of Entertainment Weekly comes out to moderate the panel, and introduces Anna Torv, Joshua Jackson, John Noble, Jasika Nicole, Lance Reddick, Blair Brown and producers Jeff Pinkner and J.H. Wyman.
3:40pm. Asked what major themes the producers want to deal with this upcoming season, Pinkner says that they want to deal with the road not taken, as it shown through the Other Side. Wyman says that people are interested in the choices they did make or could have made, so duality interests them a great deal at the moment.
Jackson is asked if Peter is about to embark on the most exhilarating threesome he's ever had. He doesn't have an answer, but is a threesome ever not exhilarating he asks. Torv is asked about Alternate Olivia's different physical and speaking styles. She was focussed so much on the differences, that she was finding it a bit difficult. She then let go of that and realized that they would actually be rather similar, and that helped her lock into the characters. Olivia wants to be the best, but Alternate Olivia wants to win, at all costs.
3:50pm. Noble is asked if Walternate is evil. Does he just play Walternate as enigmatic because the decision hasn't been made? Actually, he knows Walternate's background because he knows the choices Walternate has made. What does Noble think it means that Walter was told that it's not safe for Walter to have his memories because of what he might become? He's not that sure, but he also thinks Bell wasn't God, he gets hinge wrong sometimes. Maybe Bell was just trying to justify his own decisions.
Reddick is asked about the Alternate Broyles' relationship with Walternate. He replies that he thinks Walternate is a great patriot and a great mind. At the same time, Broyles is a bit of a maverick and has a mind of his own, so where will his loyal end up?
Blair Brown is asked about Altered States, and her numerous nude scenes. Does she know anything about Alternate Nina? She thinks that Alternate Nina is likely about a lack of control in the Other Side because she is so much about control on this side.
4:00pm. Nicole is asked about Astrid's Alternate, and how very different she is from the regular Astrid. Nicole believes that the two Astrids are so very different in nature, that although they made the same decisions, the outcome was vastly different. Alternate Astrid is more of a machine, able to crunch data and make decisions quickly without getting her emotions involved. She also teases that a lot of Alternate Astrid will be seen at the beginning of the third season. Further, she got to see real Astrid's apartment on set the other day, so some more background on her personally is finally in the offering.
The producers are asked about the balance between serialized and episodic series structures. How is that balance in the beginning of the third season? They know hardcore fans love the mythology, but the network has certain requirements so new viewers can jump in and not be lost. They will try hard to have both types of episodes to satisfy the fans and the needs of the network.
Did they want to use Bell more, despite Leonard Nimoy's retirement? The producers say that they had a story for Bell that they wanted to tell, and Had the chance to do so, though, if he un-retires again, they'll work him in.
Joshua Jackson said that when Peter found out about his real past he felt betrayed on the most fundamental level and reverted back to form before the series (burn all bridges). But he thinks at the end of the season, when he makes the choice to come back, he comes back to Walter and believes the fact that his father has saved his life twice has to mean something.
4:05pm. The cast is now asking questions of the audience – testing them on Fringe trivia in between the audience Q&A. Anna says she loves playing two sides of the same character (but the wig is a pain). Joshua just did a great impersonation of Walter smoking from a bong.
4:10pm. In response to a question by an audience member, Lance said he'd like to see Alternate Broyles' relationship with his wife explored in more depth.
4:15pm. The panel came to an end and the cast very graciously signed autographs for some audience members before leaving the stage.
[imagebrowser id=566 template = flipped]