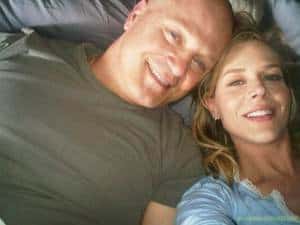 I had the pleasure of attending the Comic-Con press room Q&A with members of the cast and crew of the new ABC show No Ordinary Family. The series centers on the Powell family, headed by Jim and Stephanie (played by The Shield's Michael Chiklis and Dexter's Julie Benz), who in order to reconnect with each other and their two children (JJ, played by Jimmy Bennett, and Daphne, played by Kay Panabaker), all take a trip to South America. Their plane crashes into a lake, and when they emerge and return home, they find that they have all acquired super powers. The two lead actors and the show's producers and creators spoke to the press Saturday afternoon. There are some minor spoilers about the family's powers, so if you want to avoid them, skip the third paragraph below.
First up was series co-creator Jon Feldman, and producers Zack Estrin, and Ali Adler. They were first asked about casting Michael Chiklis, who had appeared in the superhero movie Fantastic Four in another superhero role. In response, Feldman praised Chiklis' work in the film, but noted that Chiklis has done all sorts of work, ranging from the lightest comedy (he played Curly in a Three Stooges TV movie) to the darkest drama (as on The Shield), and everything in between. That is what intrigued them about casting Chiklis in the lead role. Estrin added that the show is a nice blend of a the family, superhero and procedural genres, and they believe Chiklis brings strength and experience to all of those tones. Feldman was asked where the genesis of the show came from, and he said that in looking at his own family, he considered what are ways that make them special or different from the neighbors. The super powers angle is a type of "wish fulfillment aspect to fill in what we perceive are our own deficiencies."
I asked about the structure of the series. As networks these days are very wary of serialized or genre series after the failure of many Lost clones, does NOF have a serialized through-line, or is the structure more episodic in nature? Feldman responded that the show is more self-contained in that each episode will have its own crime fighting and family stories, but the genesis of their powers and possible adversaries that arise because they have powers will be continuing threads throughout the series. In short, it will be possible to watch one episode, out of sequence, and still understand and enjoy what is going on, but if one watches them straight through, the little clues will pay off.
When asked about the process of deciding what powers each member of the family acquires, Feldman said that they wanted to give the Powells powers that are the "inverse to the deficiencies they feel." Jim feels like he doesn't have any power in his own life, so he becomes nearly invincible. Stephanie feels like she doesn't have the time to be everywhere she needs to be so as to not disappoint people, so she develops super speed. JJ has a learning disability, and he develops a super intellect. Finally, Daphne is a self-involved teenager, who receives the ability, and as Feldman put it, the burden, of being able to hear everyone else's thoughts.
A couple other answers revealed that there will be no costumes, masks or capes, as the family would not want to get noticed as they figured out their abilities. Debuting the show at Comic-Con was a perfect fit because like the attendees at the convention, the Powells are ordinary people who are exposed to the extraordinary. Last, Feldman insisted that the series will be one that families can watch together. Often times, shows will be boring to either parents or their children, but Feldman showed the pilot to his own children, and they absolutely loved it (and not just because daddy made it). NOF aims to be an event show for the entire family.
Up next was co-creator Greg Berlanti (Everwood, Brothers and Sisters). When asked what brought him to the project, he said that normal broadcast network dramas usually have a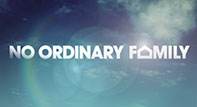 hard time finding an audience, but with NOF, he saw a family drama that is "loud," that will draw attention to itself, and therefore have a greater chance for success. These types of shows are the kinds of series that the cable networks do very well, and he thought this show had the opportunity to have that type of success (and more) on a broadcast network. Berlanti was asked that if the powers were stripped away from the Powells, what would their strength be. He replied that they are very honest one another. Prior to receiving their powers, they are like many American families: always looking at a computer screen, or a phone — living in the same house, but not as a connected family unit. Once they receive their abilities, they now have this one thing in common that they can share, so it binds them. Is NOF trying to replace Lost in any way? Absolutely not, says Berlanti. He was a big fan of Lost, and is friends with Damon Lindelof, but NOF is completely different animal that Lost, despite the fact that NOF has taken over Lost's offices in Building 23 on the ABC lot. Last, Berlanti was asked about the much-talked about storytelling device seen in the pilot and currently popular on television: documentary-style shooting, with the characters speaking to the camera. This style has been criticized by a number of critics already as unnecessary and derivative of other series. Further, the style seems to work best in straight-out comedies like The Office and Modern Family, and likely doesn't lend itself well to dramas. Berlanti assured those gathered that the device will work itself out of the series in the first few episodes.
Julie Benz, former star of Showtime's Dexter, was the next to stop by. She said that it was great switching from Rita, a victim in Dexter, to a hero for her subsequent project. She was very specifically looking for a strong, active female character after spending four years as a co-dependent, frazzled and passive one. She stated that Stephanie Powell is very controlled and career-minded, and therefore has trouble interacting with her family as she is too often concerned with what she, personally, needs to accomplish. When asked about working with Michael Chiklis, Benz gushed about her co-star and how wonderful it is to work with an actor that she has admired for a long time. She likened NOF to a group of cable TV actors trying to make good, as the cast features, Chiklis (FX's The Shield), Autumn Reeser (HBO's Entourage), Romany Malco (Showtime's Weeds) and her. Finally, Benz was asked what changes the audience will see her character go through during the course of the first season. In response, she said that because Stephanie is a scientist, she is going to want to get to the bottom of what gave her family their powers, especially as they could potentially put her children in danger. With that, the lovely Ms. Benz was whisked away, and replaced by the inimitable Michael Chiklis.
Chiklis immediately apologized for the state of his voice. He had spent the previous night "in a urine-soaked alley, being run over and over again by a truck." One can only hope that he was filming NOF. He was asked why he chose the role of Jim Powell, and replied that after playing a career-defining role such as Vic Mackey, he wanted to go in a different direction. He had never seen a family show, wrapped in a procedural, wrapped in a superhero show before, so he was greatly intrigued. Further, he was also found it refreshing that this was a show he could watch with his eleven year old daughter, who was beginning to doubt that he actually was an actor as she's never been allowed to watching anything he has been in. (This line that NOFis a show for the whole family is clearly one the show is trying to make stick in the media, as it was repeated by just about everyone to whom I spoke.) Chiklis was then asked about his fears that he is playing another superhero after playing The Thing in the Fantastic Four movies. He laughed at this because he has heard this argument a lot: why would you want to play a superhero again? To this he says, "Why not?" He rhetorically asked how many superhero shows have there been in the last twenty years on network television. He could only think of Heroes (he clearly forgot The Tick, but I'll give him that that show was more of a superhero parody), yet no one bats an eye when Cop Procedural #475,000 hits the air (hear, hear!!). Further, Comic-Con and the superhero genre is not getting any smaller, so it makes perfect sense that with such good material and a great concept, he'd be more than eager to play a superhero again.
When asked what the audience can expect to see Jim Powell experience over the first season, Chiklis said that he has always found it funny that in other entertainments, when a hero first learns of his or her powers, the hero is excited for a moment, but then just accepts his or her new abilities as a given. Imagine a real person were to wake up with powers one morning. That person would be excited to have new abilities, and not just for a moment or two. Chiklis wants to capture that fourteen-year old wonder he thinks he would have if he woke up with powers, and extend that wonder throughout the series. Finally, when asked about the tone of the show, he said that if a show like this is just light and comedic, or just dark and brooding the whole time, it would be boring. So, he and the writers and producers have had a lot of conversations about making sure they show a spectrum of tones and notes form episode to episode, to make sure the audience, and the creators, stay engaged in the series.
With that, the Q&A concluded. Critics who have seen the pilot (including this writer) have been very impressed by the writing and performances. Personally, I agree with Mr. Chiklis that a show like this hasn't really been seen on television in quite some time, so if the quality of the material stays high (and there's no reason to think it won't), No Ordinary Family has the potential to be ABC's big fall hit. No Ordinary Family premieres Tuesday, September 28 at 8:00pm EDT/PDT. Please leave any questions, comments or theories below or in the Discussion Boards, and be sure to check out TVOvermind all summer for the latest in television news.