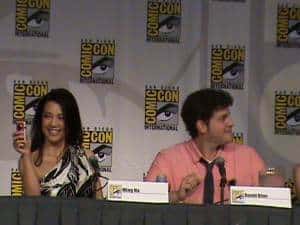 In Ballroom 20 (the main TV panel venue), the Friday edition of Comic-Con began with panels on SyFy Network's Stargate Universe and Caprica.
First up: Stargate Universe. Robert Carlyle, Alaina Huffman, David Blue, and Ming Na were introduced by producer Robert Cooper. A trailer for the new season (starting this September on SyFy) was then shown, much to the delight of those gathered. Cooper then began a Q&A with the actors. Carlyle said that his character, Rush, is one of his favorites that he has ever played. He continued, saying that the temptation as an actor is to "play the end" of the show, but not having that information is beneficial to his portrayal. Ming Na said that finding a woman who is in a position of power, yet with a great vulnerability was a bit surprising for her as an actress.
Blue talked about how his character Eli will find himself in a relationship in the second season, stating that "Nerds need love, too!" Huffman was asked how such a happy, bubbly person in real life, plays a character who is so serious. She responded that she has learned a lot from her character, TJ, in being strong when need be, but asking for help when she has to, as well. Huffman also said that there is a great mood on set, led by Robert Carlyle, where they are free to create to the best of their ability and imagination.
Carlyle approached the producers with a desire to direct, and since directing takes so much preparation, he had to direct his episode first; however, the episode, "Pathogen," will air fourth this season. The episode is a very emotional one, with a couple characters returning home to deal with some family issues. It was also revealed that *SPOILER ALERT* Rush discovers the Bridge of the Destiny, but keeps that discovery to himself. *SPOILER OVER* Also, look for some time travel, and the return of Robert Picardo and David Hewlett during the second season.
One other piece of Stargate news is that Robert Knepper, formerly of Prison Break and Heroes, will be appearing in the upcoming season.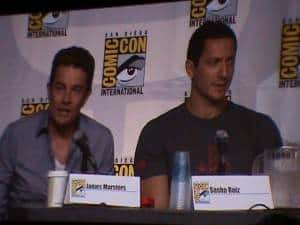 Next up was Caprica. James Marsters, Sasha Roiz, Alessandra Torresani, David Eick, and Ronald D. Moore came onto the stage. After a trailer for the show, James Marsters was asked what it is like to be playing a religious terrorist. He said that Barnabas can be considered Timothy McVeigh or Osama bin Laden, take your pick, but what they all have in common is that they all think they know what God wants, which can lead to trouble for those around them. Roiz explains that his character has been trying to find his position within the family, and what his purpose is. Torresani has the pleasure of playing a multitude of characters (although they are Zoey Greystone). Further, she says that she uses Twitter a lot because she wants to make sure the fans are as much a part of the show as possible. Ron Moore spoke about Caprica is like Dallas in that it is a great family drama.
Moore and Eick said that they are in the last stages of speaking with the network about continuing the show into a second season. Further, the second half of the first season will air in January on SyFy. Moore also spoke about the retro look of the series, noting that although it takes place in the future form our current time, it is actually a period piece when compared to the events of Battlestar Gallactica. During this comment, Magda Apanowicz, who plays Lacy Rand, ran onto the stage! She said that she feels very lucky to be able to be a part of such great material, and that her character has changed so much over the course of the first season. Torresani spoke about how the cast really is a family as they film the show up in Vancoucer, British Columbia, away from their homes and all of the distractions of Hollywood.
James Marsters said that he will be appearing on the 200th episode of Smallville later this year. Moore spoke about how he has always liked putting women into non-traditional, military roles, because of the dramatic tension such writing and casting creates. Further, he said that while Battlestar Gallactica dealt with a post-9/11 world, Caprica concerns itself with the kind of world that exists today, touching on such issues of corporatism, immigration and security.
We have a few photos below from the Stargate Universe and Caprica panels.
[imagebrowser id=562 template = flipped]