Before the panel even started, the audience was treated to the sound of instruments being tuned, and the distribution of lyric sheets for the Big Bang Theory theme song! The session started with a series highlight reel featuring Comic-Con-esque scenes. Next, out came Wheaton to moderate the panel and lead the gathered masses to sing the theme song WITH THE BARENAKED LADIES! Wheaton then brought out the stars of the show: Johnny Galecki, Jim Parsons, Kaley Cuoco, Kunal Nayyar, and Simon Helberg.
When asked what things they are actually geeky for, Nayyar responded with badminton. Helberg was geeky for the Barenaked Ladies' accordion solo. Parsons likes talk radio(?), while Galecki geeks out for work…..and True Blood! Wheaton says that when he first was on the BBT set, he was pleasantly surprised how much like family the cast is. When a scene ended, the cast didn't go to eir dressing rooms, but rather the ping-pong tables. Then, a very long discussion about an on-set ping-pong tournament, with wheaten likening himself to Yoko Ono by possibly breaking up the BBT cast.
Bill Prady and Chuck Lorre, creators of the show, we're asked if they have any big "gets" they would like for the show. They announced that Steve Wozniak will be appearing this upcoming season, and that they have some other special guests in the works. Wheston then asked how hard it was to sell a show about geeks, nerds and dweebs to the network. Prady and Lorre said that CBS got the show right away, and have been nothing but supportive. They presume an intelligent audience, so there is no need to de-nerd the show.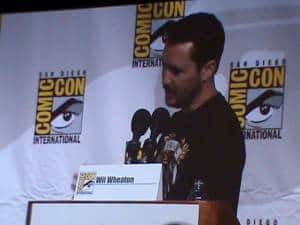 Helberg was asked about his improv background, and whether it is hard for him to trust the writers. He replied that the material is so good that he doesn't have to worry about the lines he is given, but that everyone is open to suggestions from the cast. Wheaton says Cuoco, while the least geeky character, but the geekiest actor on the show; namely, she didn't get into the Hogwarts house she wanted! Galecki is told that Leonard is the "connecting character" for the audience. What is his reaction to that statement? He thinks he can't take that kind of view of his character because they are such an ensemble cast. Actually, he had Judd Hirsch's character from Taxi in mind when he first read the script. Lorre notes that Leonard is stuck between two worlds, and can get hurt because he's reaching out to places that he's not too comfortable.
Nayyar is asked about how Raj can only speak to women when he is drunk, and that likely he will end up waking up next to a "WOO! Girl.". How would he react to this? Nayyar said that he would ask Walowicz to pick him up and show him Raj's conquest. Parsons is asked by Wheaton what it is like to play a character that is so unyoke who he really is. He responded that it is very fulfilling, and surprisingly easy because the writing is so fantastic. Yes, he gets to interpret the script, but it is really written like a road map that is easy to follow.
Audience Q&A: Will they shoot sn episode where the guys are actually at Comic-Con? Lorre responds by saying that are an "indoor cat" and it would just be very difficult to do it. After someone yelled out "Sing Soft Kitty!" the cast obliged. Then a little girl asked the cast who their best friends in the cast are. Parsons said, "I'll tell you who the most talend is!". They are then asked where the word "Bazinga" comes from. It was writer Steven Engel's word for "gotcha!" Does anyone from the cast have a favorite line or scene? They really couldn't think of anything. How did they feel about being cast? "Meh," was Parsons' response. Will Mayim Bialik be back next season? Yup! What superhero abilities would they like? Galecki would like flight, and change his name to Dave Grohl. Parsons would like to create world peace. Helberg would like flight but people wouldn't know so he could join a ballet company or basketball team and have really great jumps. Nayyar would like the ability to make things awesome, and be Awesome Man.
With that last question, the panel thanked the audience for all their love and support. You can view some photos below for the panel.
[imagebrowser id=563 template = flipped]