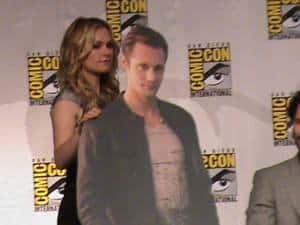 The True Blood panel, which will be starting shortly, is THE panel today at Comic Con 2010. People have been lined up since 6:00 a.m. and camping out in Ballroom 20 all day to see this panel (and along the way we also managed to see the Stargate Universe and Caprica, Big Bang Theory, Bones, and EW's Women Who Kick Ass panels as well).
This year's True Blood panel features most of the major stars of the show, including Anna Paquin, Stephen Moyer, Deborah Ann Woll, and Sam Trammell (although Alexander Skarsgård and Ryan Kwanten are missing). New cast members Joe Manganiello (Alcide) and Denis O'Hare (Vampire King Russell Edgington) will also be present, along with a few other members of the cast. Show creator Alan Ball will also be on hand to answer fan questions. TVOvermind plans to live blog the True Blood panels, which updates coming every few minutes (much like we did with the J.J. Abrams and Joss Whedon Visionaries panel yesterday).
5:25pm – Tim Stack, a writer for Entertainment Weekly, is moderating the True Blood panel today. He calls the cast "the most attractive on television". Alan Ball (who enters to absolutely thunderous applause) brought along an exclusive clip with scenes from the second half of the season to share with the audience. I won't spoiler much for you, but we'll be seeing scenes between Sookie and the Vampire King (who takes a big interest in her). Sookie's also getting more kick-ass and something big will be happening to her character.
5:30pm – New cast member Joe Manganiello (Alcide) has obviously been well received by the fans, because the crowd is going wild. Author Charlaine Harris also came out, as did Deborah Ann Woll, Nelsan Ellis, Denis O'Hare, Sam Trammell, Rutina Wesley, Anna Paquin and Stephen Moyer. The entire cast gets the loudest cheers that I've heard ALL DAY!
5:35pm РLike what happened with missing cast member Brad Pitt at the Megamind panel yesterday, Stephen Moyer carried out a cardboard cut-out of missing cast member Alexander Skarsg̴rd.
Anna Paquin confirms that Sookie will be much more kick ass in the second half of this season and we'll also learn more about her "microwave fingers". The crowd goes wild when Anna Paquin does her imitation of Stephen Moyer saying "Sookie" as Bill Compton. It's actually really strange to hear Stephen Moyer use his real accent.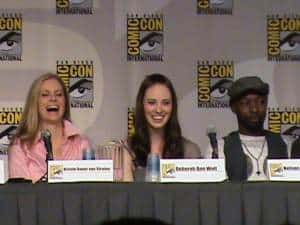 5:40pm – The moderator asked how they filmed the sex scene between Bill and Lorena, where Bill twisted her head all around. Apparently Mariana Klaveno had a full body model made and Stephen did the scene with the model, then CGI was done to match the model with Mariana's face. Stephen said that he had a really cool time filming that scene.
Rutina thinks that Tara always runs away when she gets close to someone and believes this is a defense mechanism that she learned from her childhood (due to not having a father). Rutina hopes for more stability for her character.
The moderator says that Sam's family is white trash and wonders why Sam wants to help them. Sam (Trammell) believes his character wants to help his brother and the family goes along with that.
Denis was asked to share Russell's backstory (the Vampire King) – he said that he was really interested in creating a long and complex backstory for his character and wanted to create a vampire with an ancient way of thinking and a older sense of morality.
5:45pm – The moderator asks how the Snoop Dog video came about. Alan Ball says that he knew Snoop Dog was a big fan of the show since the beginning, but didn't know about it until it was being filmed (so the show wasn't involved), but the cast seems to like it. Kristin Bauer (Pam) says that she was told Elizabeth Taylor loves the show and Charlaine Harris says that Anne Rice is a big fan of the show.
5:50pm – The moderator asked Deborah Ann whether Hoyt and Jessica would ever get back together. She thinks that Jessica is very confused right now with being a new vampire and thinks that she needs to find herself before she and Hoyt can get back together.
Charlaine Harris says that she wants to see Sookie's great-grandfather on the TV show and that her favorite episode so far is "I Will Rise Up".
5:55pm – Stephen said that he prefers the physical action to the sex scenes because most of the cast members (except for Ryan and Joe) always "starve themselves" before doing sex scenes.
*SPOILER* Alan says that they just started breaking stories for season 4 and that Hallow from the books will be playing a role. *END SPOILER*
6:00pm – In response to an audience question, Alan says that as he was growing up he experienced a lot of death and his relationship with that has been a big part of what he's been trying to explore as an artist. However, he doesn't think that True Blood is really about death, even if it has a big body part. He also thinks that death isn't as much of a reality in the True Blood universe as in our real lives.
Alan also said that "you'll need to keep watching to see what happens between Bill and Sookie", but he believes that they believe the versions on the show are soulmates and he roots for things to work out between them (but doesn't know if they will). Charlaine clarifies that the relationship between Bill and Sookie in her books is very different than the relationship in the show.
6:05pm – An audience member asked when Tara would get a break from all the craziness and he said that it would happen towards the end of the season, but clarifies that it most definitely won't last.
Apparently Charlaine announced yesterday at Comic Con that she plans to release 13 books for the Sookie series (I believe 10 of the books have been released already).
6:10pm – Joe reveals that three days ago they finalized the deal to make Alcide a series regular! The crowd is very excited to hear that.