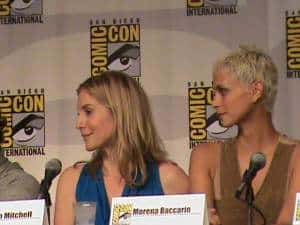 Saturday afternoon at Comic-Con, the panel for V was presented. In attendance were Elizabeth Mitchell, Scott Wolf, Morena Baccarin, Joel Gretsch, Morris Chestnut, Laura Vandervoort, Logan Huffman, Charles Mesure, and producers Steve Pearlman and Scott Rosenbaum. How is Season Two going to top Season One? Rosenbaum says that the second season will reveal the Visitors' true reasons for coming to Earth. Further, the meaning of the Red Sky will be known by the end of the season premiere.
Gretsch is asked if there will be more "Action Jack" next season. Rosenbaum steps in and says that, yes, viewers will see more of a "Soldier Priest" than vice versa. Mitchell is asked about the strong characters she has played before; what makes Erika unique? She laughs, because she usually thinks of what Erika the same as other women. She does say that Erika's humanity is a major focus for her. Baccarin is asked about her V babies being destroyed, and her subsequent scream, the first emotion she has shown. She responds that is an interesting conflict for Anna to find herself in, being closer to humanity than she wants to be.
Was Wolf's character's aneurysm real? It's not entirely clear. Is Chad Decker still interested in furthering his career, or is he looking for "lizard love?" Wolf replies that Chad will choose an allegiance next season. What was the purpose of killing Ryan's wife, Val? Rosenbaum says that it was necessary for Anna to make Ryan see the bad sides of humanity so he'll again be susceptible to Anna's bliss. Huffman is asked if Tyler will mend the rift with his father. He hopes so, because shooting with the actor that plays his father was a lot of fun.
Rosenbaum says that there will be a number of new characters appearing, including Anna's mother, and members of a radical group of the Fifth Column. Mesure announced at he is coming back as a series regular for Season Two. Will Hobbes be forced to choose sides in the impending war? It appears that he'll have to do just that. Vandervoort is asked whether Lisa is up to the challenge to be the possibile savior of humanity. Yes, but she can't say whether she will actually be that savior.
What is tihe dynamic between Erika and Anna next season? Rosenbaum said that the show is about two mothers battling for their children, and how far they are willing to go to protect their own. There will be a burgeoning relationship between Erika and Lisa, while Tyler will be pushed towards Anna. So, how do these women use, or not use, their new wards? Will the V's world be seen? SPOILER (Highlight To Read) Rosenbaum says that yes, when Diana, Anna's mother, is seen, it will be in their home world. SPOILER (This was actually an error by Rosenbaum who spoiled the name of Anna's mom).
What was the most shocking things for the cast? For Vandervoort, it was finding out Lisa was Anna's daughter. For Baccarin, it was killing Val. Mitchell revealed that the audience will find out, definitively, why Anna is so interested in Tyler. Rosenbaum expanded on this, saying that they are not trying to be cute about the show's mythology. In other words, Season Two will answer questions about the V's past, and their long-planned invasion of Earth.
Audience Q&A: Are we going to learn more about the younger lives of Jack or Erika? Yes, not via flashback, but their secrets about their pasts will be addressed. Will there be closed captions for the hearing impaired on the DVD extras? They don't know. What was Vandervoort's favorite scene? She was going to say getting slapped, but working with Elizabeth in the scene where the V was carved into her face stands out to her.
How was the transition from Lost to V for Mitchell? There was a lack of sleep, because she was working on both at the same time, but she had great casts in both, so it was like having two homes. Character-wise, it was great having an opportunity to discover Erika. Will the V/human hybrid baby be central? Rosenbaum says to consider the hybrid as another weapon in Anna's arsenal, as it is a way to manipulate Ryan. Will the audience see the worldwide effects of the V invasion? Absolutely. While it is great to focus on the immediate concerns of those in New York, the global effect of the invasion is of major importance and will have consequences for all the characters.
With that last question, the panel came to a closely. V will return to ABC in November.
[imagebrowser id=565 template = flipped]