In all of our excitement over the recently completed Comic-Con we sometimes fail to remember that, well, it is Comic-Con!
One of the best tidbits to be announced last weekend is that one of my favorite television programs, Jericho, will be released in comic book form by Devil's Due Publishing this coming October, as announced by Josh Blaylock, President of the publishing company. Jericho: Season 3 will take over where the television series concluded but lead quickly to what we all knew had to happen – Civil War.
Backed and written with help of esteemed comic writer Jason Burns, the original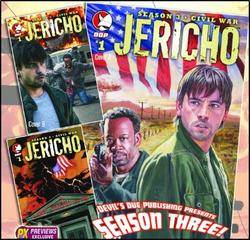 team of writers from the television series and Executive Producers Jon Steinberg Karim Zreik, and Dan Shotz, and Robert Levine, along with one of the stars of Jericho, Lennie James (Robert Hawkins) spoke at the Comic-Con panel about the coming series:
Dan Shotz looked to the audience and impassionedly said 'Thank you for this!'He later enthusiastically said of the "Jericho" fans 'You guys are the greatest marketing team in the world…you brought a major corporation to its knees and made them bring back the show…you guys are the reason there is a Season Two, you guys are the reason for a Season Three in the comic book, and we have a lot more to come because of you.'
'It was so important to do this as a team, this group is the group that started this show, and we wanted to continue it that way…and we wanted to keep true to the story that was planned…we wanted the characters to look like the characters, the stories to be from the writers of the show.'
Citing the fact that without network budgetary issues to deal with, Blaylock said the new chapter of Jericho will be free of the normal constraints:
'As soon as you take it out of the network, a lot can change, for the better I think. It's probably the same story that would have been told, but now we get to see it and engage with it. It's now an interactive story…there's no limit to the number of tanks you can have [on the comic's page].'
When the future of a Jericho movie was questioned, we got the best news:
'There have been talks about a movie, there have been serious talks about a movie. Where we are right now is finding the right story to tell for the movie. It's mostly a timing thing with writers, actors, etc., but where we are right now, it's finding the right story to tell in two hours for a movie…The intent is to do the movie as a theatrical release, not direct to DVD. If we were going to do it, we'd want to do it big.'
Now, that's even better news for Jericho fans!