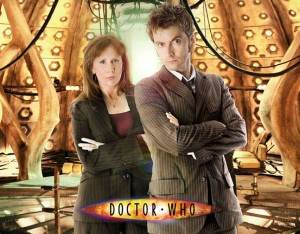 It was announced today that BBC America acquired the rights to air five Doctor Who specials.
The 2008 Christmas special, The Next Doctor, is set to air on June 27, 2009. Doctor Who: Planet of the Dead will debut in July, and Doctor Who: The Waters of Mars will be released later this year. The other two specials are slated for late 2009 or early 2010.
These specials will be the last for lead David Tennant, who will be replaced next season by Matt Smith (who will play the Eleventh Doctor). Executive producer/writer Russell T. Davies will also be departing the series, and writer Steven Moffat will be assuming the show running responsibilities.
In addition to Doctor Who, Davies is bringing the five-part special Torchwood: Children of the Earth to BBC America in July.