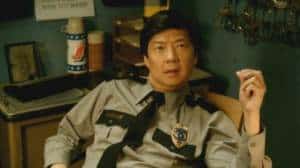 "Competitive Ecology" opens with Chang dreaming about being a real detective while Professor Kane gives his students their first biology assignment — construct a terrarium. He instructs everyone to partner up with different classmates, who they will work with for the entire year. Naturally, the study group – appalled at being split up – doesn't like this idea. They take matters into their own hands by visiting Professor Kane and plead their case for partnering up on their own terms. I had to outwardly laugh at Professor Kane's comment following their explanations – 'what is happening at this school? I have so many conversations that make no sense!' Kudos to Harmon & Company for never failing in their ability to make fun of themselves – with class.
Professor Kane grants their request, and the group goes to tell their partners why they can't be with them (the best excuse, by a long shot, was Jeff's imitation of Abed — 'Star Wars, Star Wars, Star Wars…cool, cool, cool.') Afterwards, the group tries to figure out how they're going to divide up. Pierce, of course, is left out, partnering with apparently easy-going Todd.
Chang goes to the Sgt. Nunez and tells him that he's ready to be a real detective — a request that's essentially laughed off. Sgt. Nunez tells him that Chang only been there a month and has barely done anything. 'You want to detect something? Do it on your own time,' he tells Chang before leaving, after which Chang delves into a hysterical Film Noir montage in which he resolves to solve any crime at Greendale.
Over lunch, Annie learns that partnering with Jeff may not be the best way to uphold the 'perfectionist Annie'criteria that she's so used to. Troy and Abed are excited to be lab partners (along with roommates and study group members) but also realize they may spend too much time together. Shirley, meanwhile is getting on Britta's nerves by showing her numerous pictures of her children. In an attempt to get away from their respective partners, Britta and Troy find each other outside and realize that they want to partner up (nice nod to the Britta/Troy relationship that budded last year but hasn't really been touched on since.) The rest of the group finds out that they're thinking of changing partners and flips out.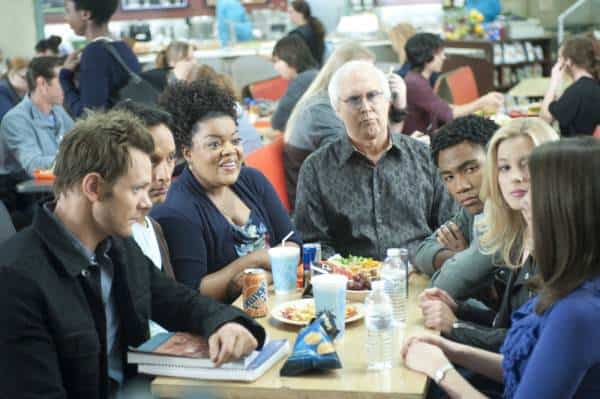 They meet in the study room to try to decide on a fair way to split up — Troy suggests the boy/girl/boy/girl scenario, while Shirley suggests they go by age. Annie finally puts her foot down, saying that they need to decide so they can get their project done so Jeff suggests they make a list of names, with a preferred order of who they would like to work with.
Back in Chang's Film Noir fantasy, he finds a matchbook in the bathroom and tries to figure out who might have left it there. After a few phone calls, he attempts to solve the crime by putting together a crude evidence board that will help him solve his case. His work backfires when a ball of yarn catches fire, essentially destroying his room and all his work. Dean Pelton comes to check out the situation. He ends up backing up Chang's conspiracy theory story when Sgt. Nunez comes to yell at him, and Sgt. Nunez becomes upset with Dean Pelton's for siding with Chang. He quits his position, leaving Dean Pelton to denote Chang as the new Head of Security.
In the study room, the group has used Jeff's suggestion to divide up, leaving Troy with Britta, Annie with Shirley, Todd with Jeff, and Abed with Pierce. Abed makes the mistake of saying he put the least popular and most popular people together, which leads the group to begin fighting about who is more popular and who is more liked within their social circle. Annie says that Shirley is too religious, Britta won't dissect anything with a head, and Annie says that people don't want to academically carry Jeff all year. The group fights over who's more popular and Todd, becoming increasingly wigged out by the their behavior, tries to leave but Jeff won't let him until they've decided something. When Britta lights the results list on fire and almost kills Todd's turtle, Todd finally loses it. 'What is wrong with you people? I thought you were supposed to be friends! I thought you were supposed to love each other!' He goes on to deliver the episode's speech about how all he's seen is people fighting, not people who care about each other.
The group shows up to class, but without their terrariums as a result of not being able to resolve their issues (Annie does actually complete hers, calling Jeff to label her as pathological.) Troy says that obviously, their idea of working together didn't work out and that they just have to go back to their original lab partners. Professor Kane calls them 'the mean clique,'saying that Todd called him crying about the way he was treated. This seems to sober the group up enough to realize their actions…at least, enough for them to realize that their problems in the first place started with — who else? Todd. Poor Todd.
The tag for the episode is the study group filling out practice evaluations for Britta's psychology class, where all she can she can see is awkward male organs instead of penciled-in bubbles. Freudian slip of the Community kind?
From the group's teamwork conflicts to Chang's Film Noir, this episode was not only enjoyable in all its plots but also in what it gave us as viewers. It was great to see some reminders that the Troy/Britta relationship is still alive and well (and maybe soon to be even more explored!) and to see the study group calling themselves out on some of their more apparent personality traits in a rather hilarious way that resonated with the audience.
What did you think of the episode? Did you catch the small and subtle remarks and flirtations (however unintentional) between Jeff and Annie? And do you, like me, want a Detective Chang spin-off starring Ken Jeong?