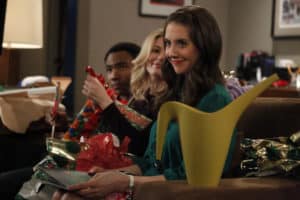 Christmas in April! YAY!!!
Annie found out through back channels that they failed their history paper and decided to invite Professor Cornwallis (played by Malcolm McDowell) over to Jeff's apartment to join their little Christmas party.
For some reason Chang was invited. I'm sorry, but ever since Chang was ousted as the Greendale's Spanish teacher, he's served no use to the show. Yes, he would eventually turn into an maniacal villain who tried to kill them all, but once the study group drove Chang out of Greendale, that should've been the last we saw of him. There's no way to go back with the character. It's not like Ken Jeong is hard up for work. He has two movies coming out this summer.
No Abed. This episode definitely wasn't better than Die Hard in a restaurant. Seriously, Abed was in a John McClane blood-soaked tank top. Why not do a Die Hard-themed episode?
With a passing grade in the balance, Chang tied up Professor Cornwallis and the group tried to blackmail him into giving them a passing grade. However, Cornwallis countered with an offer for the first person to untie him will get the 'A'.
The episode ended with the group realizing the Cornwallis was never really tied up because Chang, er Kevin didn't know how to tie a knot. We did get to see Chang on the phone with someone as the plot (that hasn't been laced throughout all the episodes) to destroy the study group was still in motion.
We also got a callback to the alternate evil timeline with Jeff getting Hannibal Annie released from the Greendale Asylum and ready to wreck havoc on the good timeline. Let's hope they do this ASAP, because this should could use it.