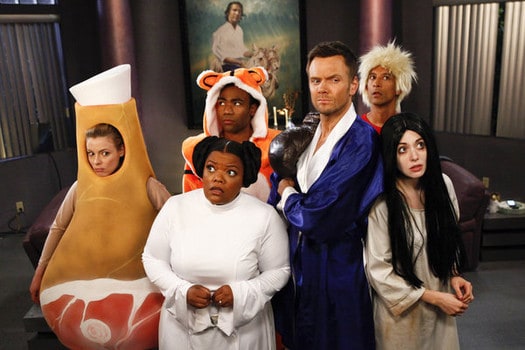 Thursday's (Feb. 14) episode of Community titled "Paranormal Parentage" was supposed to air last year as the show's Halloween episode, but since the premier was pushed back, Human Beings will get have to settle with a Halloween episode on Valentine's Day… or as NBC is calling it: Valloween!
As we all know, Community's halloween episodes have been nothing but epic. Season 1's "Introduction to Statistics" had Jeff wooing Professor Slater while a drugged out Pierce barricaded himself in the study room only to be saved by Abed. Season 2's "Epidemiology" had everyone at Greendale's Annual Halloween Party get infected by tainted food. Season 3' "Horror Fiction in Seven Spooky Steps" had Britta determined to find out which person in the study group was a psychopath, but it was revealed that the only sane member in the group was Abed.
Other than having amazing Halloween-themed episode, Community has been known for their cast members having amazing costumes. In "Introduction to Statistics," Britta was dressed as a squirrel, Troy as Eddie Murphy, Abed as Batman, Shirley as Harry Potter, Pierce as the Beastmaster, Chang as a matador and Jeff as a cowboy. In "Epidemiology," Jeff dressed as David Beckham, Pierce as Captain Kirk, Dean Pelton as Lady Gaga, Abed as Alien, Troy as Lt. Ripley, Shirley as Cinderella/Miss Piggy, Annie as Little Red Riding Hood, Chang as Peggy Fleming and Britta as a dinosaur.
After last year's episode being costume-less, "Paranormal Parentage" brings back the study group in great Halloween getups. Shirley is dressed a Princess Leia, Annie is the little girl from The Ring, Abed and Troy as Calvin and Hobbes, Jeff is a boxer and Dean Pelton possibly as Madonna.
What's on the store of the gang for Halloween? While on their way to Vicki's (Danielle Kaplowitz) Halloween costume party, the study group makes a detour to Pierce's (Chevy Chase) mansion when they learn he accidentally locked himself in his panic room. As Pierce languishes behind locked doors, the group searches the dark and eerie house for the book that holds the code to the door. Along the way they encounter a few of the house's secrets.
http://youtu.be/7x7IDsTOr-Y