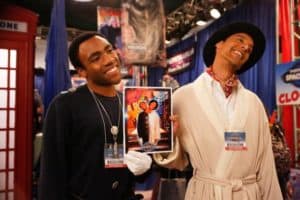 I'm so glad I recently watched seven seasons of Doctor Who so I could thoroughly enjoy/understand this episode.
It was cool that sci-fi star Tricia Helfer was a guest star in the episode, but I really think that they completely missed the mark in not casting one of the companions from Doctor Who. I was at Comic-Con last July and someone asked Steven Moffat, Matt Smith, Karen Gillan and Arthur Darvill about Inspector Spacetime and Karen Gillan expressed how much she loved Community and would love to make a cameo appearance on an episode that featured Inspector Spacetime. I guess that powers that be didn't get that memo and they went with Helfer instead who's practically sci-fi royalty. 

However, Matt Lucas was clutch as a guest star. He's hilarious as Toby, the man who wanted to swoop in a steal Abed from Troy.
But what about the episode? The gang went to an Inspector Spacetime convention where Annie pretended to be Mrs. Jeff Winger, Pierce and Shirley were involved in a focus group for an American Inspector Spacetime spinoff and Jeff discovered that he looked like Inspector Spacetime's arch-nemesis Thoraxis.
This episode was pretty consistent with the episodes that we've seen this season, but they're not as funny as they used to or could be. I guess I have to finally accept that we live in a Dan Harmon-less world and that Community will never really be the same.
Holy 90s Batman! Kelly AND Dylan on Community?!?! Honestly didn't expect them to step out of the phone booth, but it was a pleasant surprise to the end of the episode and a great commentary on why some shows from across the pond should never have North American versions *cough* Misfits *cough*.