If there is any Christmas song I take to heart, it's "The Most Wonderful Time of the Year." From the parties to the wonderful food to seeing friends to general holiday cheer, nothing beats that Thanksgiving to Christmas period. Perhaps the biggest highlight for us TV fans, however, is the cavalcade of special holidayepisodes most shows produce for our enjoyment. Often, shows will go all out for these special episodes with guest stars, romantic pairings orintense, dramatic moments, not only because the holidays often heighten emotions, but also because these episodes serve as mini season finales — these episodes need to have staying power with the audience so viewers will return four to eight weeks later for new episodes in the new year. Well, the folks at Community have decided to give its fans (which should include YOU, if you're not watching because, you know, you hate good comedy or something): a stop-motion episode done in the style of the classic Christmas special, Rudolph the Red-Nosed Reindeer.
Almost everyone in America with a TV after 1964 has seen at least a snippet of the Rankin/Bass classic TV special that introduced the world to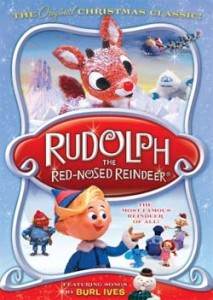 , the elf-who-wants-to-be-a-dentist-instead-of-making-toys, and how he came to meet Rudolph, the soon-to-be famous headlight for Santa's sleigh. Dan Harmon, the creator of Community, is a fan of the special, and thought it would be a lot of fun to animate an episode of his show in that style. He never though, however, that the folks at NBC would go for it. Fortunately for him (and us!), Jeff Gaspin at NBC woke up one morning and thought to himself, "Community should do an animated episode." The two met, and agreed to do just that. Harmon and writer Dino Stamatopoulos (who also plays Starburns on the show) set immediately to write the script, which has the whole cast buzzing about the episode. Danny Pudi, who plays Abed, said, "It is so hard for me not to tell everybody I know about it. The minute we read that script, I was over-the-moon excited. It's like that Rudolph the Red-Nosed Reindeer special that you see every Christmas. But in true Community fashion, it's also a little subversive and a little dark." Sounds great to me, and if there is going to be any episode that can top last season's "Modern Warfare" (the paintball episode) or "Contemporary American Poultry" (the chicken fingers/Goodfellas episode), this will likely be it.
So, what do you think about an animated episode of the denizens of Greendale Community College? Who are you looking forward to seeing animated most? For me, I think the Greendale Human Being could be pretty darn funny as a muted stop-motion figure, and Abed, as an animated character doing references to otheranimated characters, could be hysterical. Surely the episode tag with Abed and Troy will be a highlight, as well. Can you tell that I'm psyched for this episode? Most wonderful time of the year indeed! Tell us what you think in the comments below.
(Hat Tip:
Michael Ausiello
)