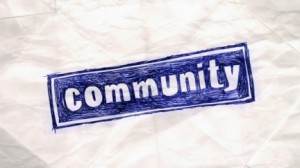 Josh Holloway, best known as hunky con-man castaway Sawyer on LOST, will be joining Community for their two-part season finale. This morning, E! Online posted some quotes from the cast today about the finale and working with Mr. Holloway.
Producers have teased that the finale will have a 'Sergio Leone homage.'Well, just who is Sergio Leone? He's the Italian film director / screenwriter best known for his association with the 'Spaghetti western'genre. His films include The Good, The Bad and the Ugly, Once Upon a Time in America and The Colossus of Rhodes.
Joel McHale (Jeff Winger) on the theory that Holloway is one of the only guys who would be believable as someone cooler than Jeff: "I agree fully with that theory, because he is cooler than me, just by walking in a room, and Jeff is a little unhappy about it. Or happy about it. Maybe he learns a little something about himself from the experience." That sounds intriguing!
Danny Pudi (Abed): "That's one of the fun things about this episode is that you'll see how Jeff's character reacts–that's probably my favorite thing about the episode. Clearly when this character shows up at Greendale everybody's going to be, 'Wow, who's this new guy?' But the best part is watching Jeff's reaction."
Gillian Jacobs (Britta): "He's a very handsome man with an amazing bone structure. I have some scenes with Mr. Holloway."
Ken Jeong (Ben): "They don't duplicate the first [finale], it's better. It's original. I think calling it a sequel doesn't do it justice–I think it's a companion-piece/bookend, I really do. It's very different than last year's paintball episode, everything from the costumes to the weapons, even. Everything is stepped up a notch this year. That's another thing too, there's so many characters–you're going to be like, 'Whoa, how many people are involved in this game?'"
Sounds like things will be turned up a few notches from last year even before you account for Holloway's appearance. Community fans, how excited are you?