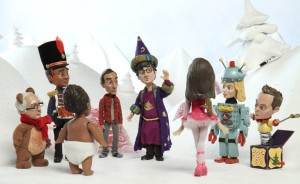 How do you top a claymation Christmas episode? It's a hard task and one that Community showrunner Dan Harmon has tackled head on; this Christmas at Greendale there will be a musical episode. It may not be as original or as time consuming as last year's "Abed's Uncontrollable Christmas" but this is Community, the show that has turned high concept episodes into an art form. Spoilers ahead.
TV Line first reported this news and have confirmed that the group will be filling in for Greendale's glee-club at this busy time of year. They will also be performing original songs. We have already seen that Community can produce a song and dance number as the season 3 opener proved. This won't be the first time that the group has filled in for the glee-club; last time was thanks to a horrific bus crash (this was covered in the season 2 clip type episode "Paradigms of Human Memory"). We will also get introduced to the Greendale choir director who is being played by SNL star Taran Killam.
This isn't the only holiday themed Community of the season with a Simpson's like Halloween special "Horror Fiction in Seven Spooky Steps" next Thursday. The Simpson's element is thanks to the 'Treehouse of Horror' narrative structure and the group will each tell a horror story to find out which person is a sociopath according to Britta's (Gillain Jacobs) personality test. Who will have the most scary story? And more importantly who will have the best costume?
Community may not pull in the kind of viewing figures as a show like Glee or Modern Family but what this show does do is to produce episodes that go beyond expectations, such as last week's epic affair "Remedial Chaos Theory." Community is ambitious and I just hope that the ratings improve to keep this wonderful show on air for another season.
What are your thoughts on a Community musical Christmas episode? Let us know what you think of season 3 so far in the comments below.
Community airs Thursdays at 8/7c on NBC.