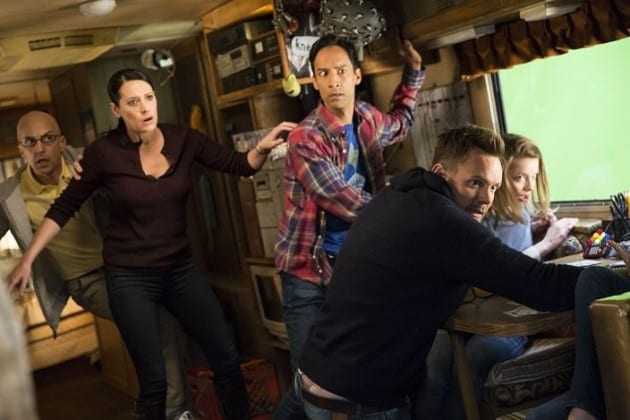 Well folks, as Community inches ever closer to its inevitable end, I can't help but be filled with an immense sense of dread. I'm not certain that I want to live in a world where there are no new Community episodes. I love when Abed pretends that life is television, and that we need flashbacks. I love when Change randomly shows up, or there's an epilogue that doesn't make any sense at all.  Lucky for me, I still have at least three weeks left of enjoying my favorite currently running sitcom, but I've got more hope points than ever that we'll get a movie!
This week's episode, like most of this season, reminded me why I love Community. The absurd little situations that our heroes find themselves in never, ever fails to make me laugh. After I found out Elroy lived in an RV, I actually hoped that they would take an RV trip because that would be hilarious. Well, it happened. And it WAS hilarious.
Probably the best thing about Community is that everything is so absurd and yet it's relatable. The characters are so real. I see the world much like Jeff Winger does, with cynicism disguising optimism. Britta is like someone we all know. Abed is our autism-spectrum but smarter  than all of us friend. What's wonderful about Community is how it throws all of these misfits together into a "community" all its own. They all have emotional depth, and it's never not compelling to watch. This element of the show thrived, as each character, in close quarters, was forced to reveal something about themselves. It was so true to life and, at the same time, completely ridiculous.
Here are some of my favorite quotes/moments from the episode:
– "I'M YELLING EVEN LOUDER SO YOU HAVE TO STOP!"- Jeff
– Three Weeks Earlier
– "So we'll just call the CIA, tell them we want to assassinate the president, and we'll be home in time for Wheel of Fortune."- Jeff
– "Can it not be a show about you saying it's a show?"- Jeff to Abed about his meta commentary
– "So I rented Hotel Rwanda the other night, let me just say…not a date movie." – Dean Pelton, practicing his stand-up act
– "Sorry I've been unavailable. I've been trying to cut to three weeks earlier. Seems like we needed that."- Abed
– "You….turd!!"- Annie
– "I can't cry anymore unless someone brings me a Pedialyte"- Dean Pelton.
– Extra Thick Straps!
– "Abed's the only human among you! And I think we all know how ironic that is." – Dean Pelton
– "I'd be lying if I said I didn't poop."- Elroy
– Chang covered in feathers.
– The whole epilogue with the guy who buys giant things.
All in all, we had another hilarious episode of Community this week. And the poop joke was just a bonus! I'm so sad that we're approaching the end, but so excited to see what comes next. At least thanks to DVDs and streaming devices, the show can stay in my heart forever. So I'll just be a fat dog about this, and hope that whatever I can get out of Community's remaining episodes will be streets ahead. Paintball, ahoy!!
What did you guys think of this episode? Let us know!!
Community streams every Tuesday on Yahoo Screen.
[Photo via Yahoo]