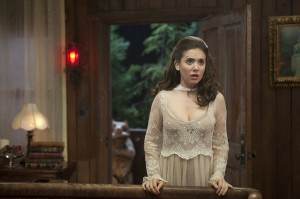 Tonight, NBC has put together a Halloween-themed line up for its Thursday night comedies. First up is Community.
In tonight's episode of Community, Britta decides to plug everyone's personality anonymously into personality tests and the results show that someone in the group is very disturbed. The members of the study group come together for a Halloween pre-party and Britta uses the party as an opportunity to figure out who is the sociopath among the group. She enlists Jeff's help in her quest and the duo decide to encourage everyone to share their favorite horror stories.
Below are two sneak peeks for tonight's Halloween-themed episode of Community.