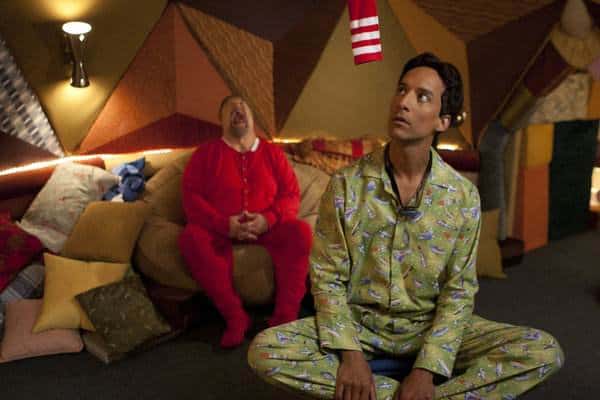 Pillows and blankets and wars, oh my! Community's start of a two-episode battle looked like it was as much fun to film as it was to watch — 'Conspiracy Theories and Interior Design" was one of my favorite episodes from last season, and, like paintball 2.0, I was glad to see another incarnation of an epic half hour (nice in-joke from Britta, who lamented that a blanket fort had already been done.)
While Troy, Abed and Annie lament about their apartment being taken over by terminates (which has forced them to be displaced, thus leading them to attempt construction of a massive pillow fort), Dean Pelton presides over the opening of Greendale's newest Subway shop – much to the dismay of Shirley and Pierce. Pierce wastes no time in getting on board with an attempt to put the shop out of business, citing clauses from the Greendale handbook that say that the shop must be 51% owned by a current Greendale student. Fortunately, that's not a problem — turns out that Greendale's newest student is a man by the name of — wait for it — Subway! No, seriously. He changed his name and everything! And he's only a week old!
Through Annie, Jeff finds out that he has a locker he never knew about (oh, Jeff.) Among the contents that he's never bothered to realize exist – a letter from someone named 'Kim,'who calls him out for being a rude and inconsiderate jerk. After Annie scolds Jeff for his actions, Jeff sets out to try to find Kim and apologize. Meanwhile, Pierce continues his 'take down Subway'crusade, trying to get Britta (aka, 'the whore') to spy on Subway and get information that would allow Shirley and Jeff to go after him. Against her better judgment, Britta strikes up a conversation but falls head over heels in love, because as it turns out, Subway is Britta's ideal man. He reads! He's compassionate about animal rights! He's handsome! Britta's totally gone, which clearly bodes well for Pierce and Shirley, who for once are counting on Britta's caustic attitude.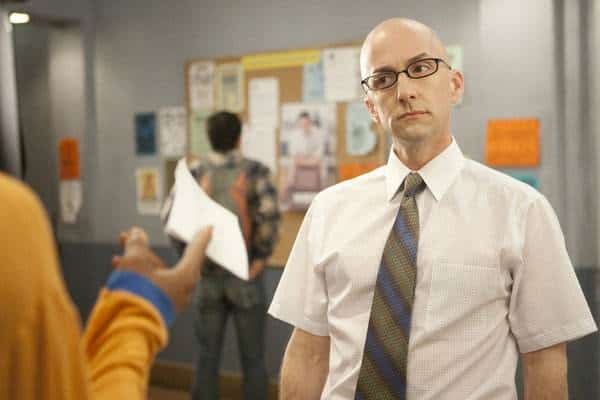 In the land of Troy and Abed, the two are working diligently on their pillow fort until an interruption from Dean Pelton alerts them to the fact that a Guinness Book of World Records opportunity exists. Troy, distracted by the promise of awards and fame, believes that a blanket fort has a better chance of winning than a pillow fort but Abed isn't on board with the change — he would rather not change his plans. Troy gives up on the fight and dejectedly admits defeat, coincidently bumping into Vice Dean Laybourne, who we haven't seen since the beginning of the season (looks like Dean Laybourne, sporting longer hair and a new goatee, had some time to spare over hiatus.) Still intent on having Troy join the air conditioning repair school (and knowing his success of recruitment depends on whether he can tear Troy away from his other half) he appeals to him by trying to make him see how Abed limits him. Since lately Laybourne's observations ring somewhat true, Troy starts to realize how he's being treated and he lashes out at his friend, telling him he feels slighted. Abed consents that he never told Troy he couldn't make his fort — but that he doesn't want it to have anything to do with his own project. Oh, Abed. That was cruel, even if it was your evil goatee talking.
Thw two end up in a stand-off when Dean Pelton tells them that the only thing standing in the way of Troy's record setting blanket fort is Abed's pillow fort. One side's gotta give, and Troy isn't backing down easily — but neither is Abed, who is adamant about not giving in to teamwork. In fact, Abed says he would rather see his work destroyed than compromise, and promptly orders a self-destruct that is aborted by Laybourne, who now tries to work his psychological magic on Troy's other half by messing with his head via Inspector Spacetime metaphors (side note, I love how that's the way to get Troy and Abed to understand things like relationships — fandom. It speaks to so much of my life, personally.) The two end up in an epic stand off involving the whole school (sides depending on your allegiance and, well, whether you liked pillows or blankets) and even Dean Pelton can't keep things in Chaos ensues (along with epic Game of Thrones music!) and as Starburns accidently brings down Troy's blanket fort, the leaders and their armies retreat to their respective safe havens — to be continued? So it seems…
Britta, meanwhile, finds some unexpected love in the pillow fort when she comes across Subway. Unbeknownst to Britta, however, Pierce has placed a secret recorder in her backpack, which essentially records the entire sexual encounter between the two. Pierce and Shirley bring the tape to the attention to Dean Pelton and the Subway executive, hoping that it will do the trick, but all it really succeeds in doing is turning the Subway executive on — and removing Subway (real name: Rick) from the picture, much to Britta's dismay.
Jeff arrives at Kim's locker with flowers, verbally apologizing to the apparently dead student for being a jerk and a 'self-centered, shallow ass.'When the same student who told him Kim was dead earlier interrupts him, Jeff finds out the boy was lying — HE was really Kim. He was upset Jeff didn't pay attention to him even after they hung out a decent amount, and he felt slighted that Jeff didn't care or remember that he wasn't girl despite having a girl-like name, so he played a joke in order to make Jeff feel bad. In an amusing turn of events, Annie loses her cool while Jeff apologizes profusely. Annie later apologizes to Jeff, citing her issues with gender roles.
Our tag for the evening is a look at the evil Vice President Laybourne, who seems content in the fact that he as gotten he ball rolling on Trobed's undoing. What will happen to our beloved duo? Are they really going to grow so far apart that they'll never be able to reclaim the friendship that made them so famously loved?