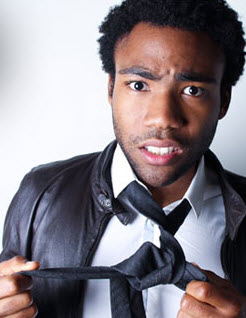 As much as I love Community, it's hard to believe that it's going to last past this season. Showrunner Dan Harmon was booted out, the episode order stands at only 13 right now, and the show will most likely be shoved to a Friday slot. If that doesn't sound like imminent death, I don't know what does.
But with such a talented cast, most will land on their feet. Donald Glover, in fact, is actually landing on his feet before he even starts falling, in fact. He's developing a sitcom with NBC based around his own life. Glover's life, if you didn't know, was a pretty cool one where he came from a nice family who took care of foster kids. He then went on to do stand-up, sketch comedy and rap. Yeah, he raps. YouTube Childish Gambino and report back to me how awesome that was.
It's a smart move for both him and NBC to ensure he continues on with the channel after Community's likely demise. The show, of course, is being developed a second priority to Community, meaning first and foremost he'll be focusing on his work on that show. But as it is an ensemble cast, he'll probably have a bit of time to do his own thing as well.
It would be sort of cool if he could carry over some of the Community cast as well. It'd be pretty cool to have Danny Pudi (Abed) or Alison Brie (Annie) cast in some way, as the group are all good friends at this point.
Would you watch a Donald Glover sitcom?