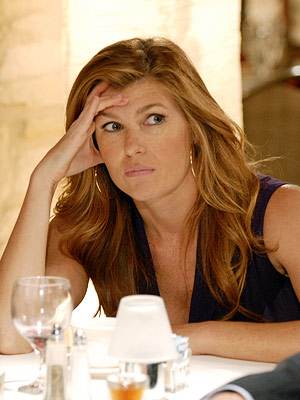 Well, it looks like Tami Taylor is going from the football matriarch to frightened force to be reckoned with, as Connie Britton has been cast in Ryan Murphy's mysterious FX pilot American Horror Story, according to TV Line. Britton is said to be playing half of the show's central couple, but in an interesting twist, the show will have a cast turnover at the end of every season (how Skins-ian), so that drama she was creating with David O' Russell? It's not off the table.
Britton is best known for playing Tami Taylor on NBC/Direct TV's lauded Friday Night Lights, earning herself an Emmy nomination and 2 TCA nominations, as well as a hoard of swooning fans just waiting to see her next move. Britton isn't the first FNL alum to score high profile work since the show finished filming, as the cast has tended to go toward action-y shows (Minka Kelly and Charlie's Angels, Adrianne Palicki and Wonder Woman), blockbuster movies (Kyle Chandler and Super 8, Taylor Kitsch and Wolverine), and name brand products (Zach Gilford and Off the Map) in lieu of another gritty cult favorite. Horror isn't the first genre that pops into mind when I think of Connie, but I'm more than willing to give it a chance to see what direction the show heads.
Friday Night Lights premieres its final season (on NBC) April 15th at 10:00.
Should FX give American Horror Story a pick up, do you think you'll watch it? Who should play the other half of the show's featured couple? Any ideas on what kind of show she and Russell could come up with?