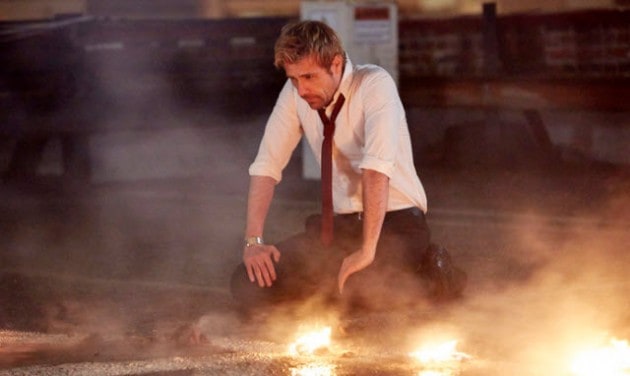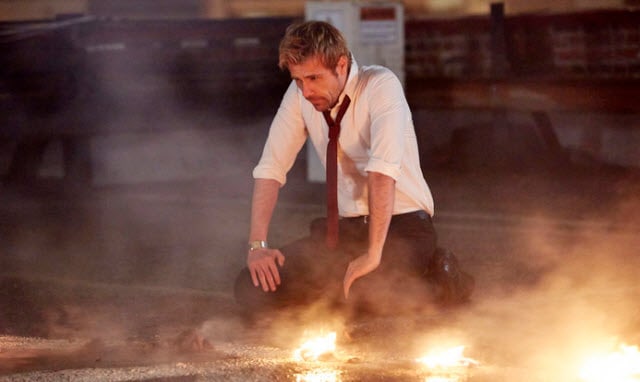 Last night's DC/WB's third DC TV show finally kicked off over at NBC as Constantine was brought to life once again. Just like with The Flash, I was lucky to see this pilot at this year's San Diego Comic-Con so some of these thoughts have been with me ever since then.
Being the comic book nerd that I'm, I have always been interested in seeing the occult and magical aspect of the DC Universe come to life in live-action and having seen Constantine in several places, I was excited to see this character come to life in the form of a TV show. I have read a lot of different thoughts from critics seeing in advanced to regular fans seeing it at Comic-Con where they have had very mixed reactions to this pilot. I can see where some of those mixed reactions are coming from, but to me it's a very solid first episode.
The strength is obviously the leading man himself, Matt Ryan who was more than right for this character. While I haven't read any Hellblazer comics, I have seen this character in other places and based on what I saw in Ryan's portrayal, it's a very nice adaptation. Even though we see several sassy, sarcastic and wild characters all the time on TV, there was just something with John that felt very refreshing. The opening to the show was pretty intriguing with him pretty much being broken down and done with dark arts. I like the brief backstory we get from him throughout the episode and how it will be something that drives him throughout the show.
One of the things that I'm already digging about Constantine is the fact that it has a very small cast. I don't mind a big cast, but sometimes it's nice when it's only a handful of people and it's a nice variety when you compare to the other DC TV shows out there. We meet the angel Manny (Harold Perrineau) who isn't in the comic books and was specifically created for the show. I loved him immediately as a counter-part to John and it would have been appreciated if he had been in the pilot a bit more. Even though I don't look at him as an enemy, he is definitely an ally that will serve as an obstacle to John from time to time.
We also get to meet John's oldest mate, Chas (Charles Halford) and while he isn't much of a talker, he is the voice of reason whenever he actually does talk. There is also one scene where we learn that there is something possibly supernatural about him as he survived getting a live wire through his chest. I think he will be the one that will keep John in check, just like a companion does to the Doctor on Doctor Who. The one hope I do have for Chas is that he will actually be someone who talks more even though John specified that he isn't much of a talker.
The one issue I had though was sadly with the character Liv (Lucy Griffiths) who was supposed to be the female lead on the show until the executive producers decided to go in a different direction. After seeing her in the pilot, I understand very well why they had to change their minds. She wasn't very likeable as Liv as she came off as very whiny and slightly over the top most of the times. If they had kept her, I would have been interested to see what they would have done with her in a second episode. It's not a big loss though for me because who knows what could have happened with this character.
I'm not sure yet if the format they are going with is serialized or procedural because it seems that we will be seeing different demons and creatures throughout the first season. However, they do hint a lot that the characters of Astra and Nergal will be people we will see again so there is a main arc here to follow. We also get several Easter Eggs from the DC Universe, including the very noticeable Helmet of Nabu (Doctor Fate) as well as Pandora's Box from the New 52 adaptation. I can't comment too much on the special effects, the demon looks and all that because it wasn't exactly something that we hadn't seen before. But it wasn't bad by any means: it just didn't stand out from other supernatural themed shows that we have seen before.
The one thing that surprised me the most was the ending where we see a woman sitting on the floor and drawing several images of John. That scene was never in there when I saw the version at Comic-Con, but it makes sense why they added that scene. So who was that mysterious woman? Meet Zed Martin, (Angélica Celaya), the new female lead who will be joining John on his adventures in next week's episode. I have been following everything they have been saying about Zed in interviews and I have to say that I'm very excited about Zed and what Celaya will bring to the table.
Overall, the Constantine pilot is a very solid first episode that gives us a great take on the magical side of the DC Universe. Despite the some hick-ups due to Liv, you have a very interesting lead character in Ryan's John and a premise that can go into several directions. If NBC allows the show to take time to grow and get a following, Constantine will be another great addition to the DC TV line up this season. I can't wait to see what they have in store for us and what characters they will be bringing in from the DC Universe aside from the ones that have already been announced.
Constantine airs on Friday nights, 10/9c on NBC.
[Photo via NBC]