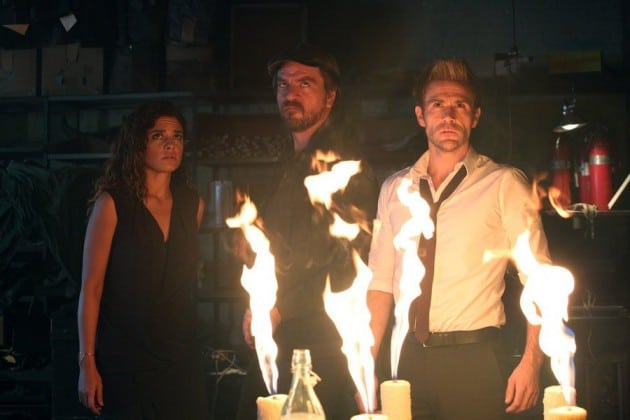 This week's episode of NBC's Constantine was not only one of the more uplifting episodes of the season, but it was also one that the series needed, especially for the character of Chas Chandler (Charles Halford).
One of the bigger questions that has been brought up ever since the pilot episode of the DC supernatural drama is how Chas is able to come back to life without having supernatural powers, as Daniel Cerone stated a few weeks ago. There was also so little known about Chas as a character overall, as he hasn't been heavily featured in previous episodes of the show so far. This week, however, fans of the show finally got some big answers to what Chas's big mystery was all about.
To begin with, I really appreciated the flashbacks we got of him being drunk with John at a bar and him having his struggles with his family. Â Because I have no connections to any of the Hellblazer or John Constantine comics where Chas does exist, I had no knowledge whether the version we see on the show is similar to the comic version. Nonetheless, learning that he absorbed several souls during the fire in the bar and therefore has 30-something lives left before he really dies. It was very admirable that the writers decided to adapt this type of arc for Chas when it came to his ability to come back from the dead all the time.
It actually raises the bars and stakes for this character's future, should the show come back for a second season, where he eventually needs to start being careful of dying time after time. The episode also introduced a decently known DC villain, Felix Faust (played by Mark Margolis), and while I'm not too familiar with this villain, it was perhaps the best introduction of a new DC character since Jim Corrigan. He would actually serve as a very good minor antagonist or a main one too if the show lives on, because this is someone that you can flesh out and give a big arc to. Margolis's performance was intriguing and twisty, so hopefully, before the first season is over, we will see him  at least one more time.
As featured as John was in the episode, Halford did steal the show quite a bit, especially when we saw him lash out at John for not handling the situation about his daughter's soul that was demon-napped well. Think about it from his perspective: he always goes along with John's sometimes incredibly insane plans and has perhaps one of the biggest patience levels I have ever seen on TV. You need to have even the closest partners be on opposite sides every once in a while, because if they always agree on things, then it becomes too one-dimensional.
Lastly, but definitely not the least, Zed saw John's dead mother in her visions and informed him that she told him that his mother didn't blame John for her death. Then Zed conveniently, due to her earlier head pain, passes out as John starts asking her for more. I'm sure the writers didn't know at the time when writing this one that NBC wasn't going to pick up the show for a full season so I can't blame them too much for this. But to me, I don't think it's benefiting to introduce this type of mystery when we are possibly not getting a second year for the show. I will comment more on this later once the season has completed and hopefully not been cancelled.
Overall, "Quid Pro Quo" was one of the more entertaining Constantine episodes yet, and it provided Chas with some great, much-needed character development. The ratings for the episode did tick up a bit this week, so hopefully, these three final episodes of Season 1 will continue that streak and get NBC to renew Constantine for a second season.
Constantine airs on Friday nights, 8/7c on NBC.
[Photo via NBC]