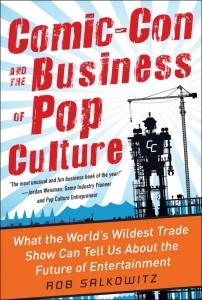 Those of us who head to San Diego each July and see Comic-Con as the television and film mecca that it's become might not really remember its roots as a true comic book fan convention in the early 1970s. While the convention gave fans an opportunity to trade issues and discuss and interact with their favorite comic writers, illustrators and other professionals, comics have always had a connection to mainstream media, making the transition to a massive entertainment convention a logical one, even if some purists complain about including Twilight panels alongside appearances by such comic luminaries as Stan Lee.
But, like most other areas of entertainment, comic books are going through a serious period of adjustment. While the television industry is dealing with declining ratings and the increase of viewers moving online to enjoy their favorite shows, the comic book industry is dealing with the economics of creating and selling digital versions of its stories. While the movie industry deals with illegal downloads, so does the comic industry.
Author Rob Salkowitz has been attending San Diego Comic-Con with his wife for decades. A co-founder and consultant for a Seattle-based communications firm, Salkowitz also happens to be a comic aficionado, and his experiences at the convention over the years prompted him to use the event as a study of the comics industry, as well as a study of pop culture in general. After all, comic book characters have been popping up on our television and film screens for decades now, with the recently released Avengers movie raking in the cash worldwide.
Saklowitz arranges his book, "Comic-Con and the Business of Pop Culture" [contest details at bottom], according to the four days of Comic-Con. The events that take place on each day (including Preview Night) allow him to discuss different aspects of the comic and pop culture industries, from transmedia convergence (the appearance of superheroes in comics, television, video games, movies, etc), to the move into the digital age, to the reasons for the survival of smaller comics publishing houses. Salkowitz also uses the book as an opportunity to explain the experience of Comic-Con. It's nearly impossible for non-attendees to fully understand the sheer size of the convention unless they experience it for themselves, but "Comic-Con and the Business of Pop Culture" does its best to convey it.
Fans of television and movies will also find useful information in Salkowitz's book. His explanation of why Comic-Con grew to incorporate TV shows and film panels makes complete sense. The fans in attendance are excited to see their favorite actors and actresses, while the film and television studios get to expose their products to a built-in audience of strong fans and consumers, although Salkowitz is right to point out that this strategy doesn't always succeed (see: Scott Pilgrim vs. The World). While this book purports to be a study of the business of pop culture, fans of any comics or graphic novel genre can appreciate the study of the industry's history and its future. In the end, Salkowitz offers four potential futures for the comics industry and debates the merits and likelihood of each.
Even if you're not a devoted comics fan, "Comic-Con and the Business of Pop Culture" is an interesting read that will not only teach you about the industry, but also explain why one of the largest entertainment conventions can be a source of both frustration and genuine excitement. You'll probably want to sign up for next year's convention and pick up a comic to read in line after reading this book.
Contest
Thanks to publisher McGraw-Hill, we're giving two lucky TVOvermind.com readers the chance to win a copy of "Comic-Con and the Business of Pop Culture". Here's how to enter:
Email me at clarissa @ tvovermind.com with "Comic-Con Contest" in the subject line. Your email should include your name, city and state/province, as well as the #1 thing you like about Comic-Con, or the #1 thing you would want to experience if you've never attended before.
The contest will run until 5:00 p.m. ET on Tuesday, July 10. Contest is open to readers in Canada (excluding Quebec residents) and the continental United States. The winner will be randomly selected and contacted by email after the contest ends. He/she will be asked to provide their full address. Prize distribution will be handled by McGraw-Hill.