TVOvermind managed to get our hands on TWO Caprica DVDs and a Caprica T-shirt to give away to two lucky winners on Saturday, the day after Caprica premieres on the Syfy network.
One winner will receive a Caprica DVD and a Caprica T-shirt, and the second winner will receive a Caprica DVD. In order to win simply follow the two steps below (at the bottom of this post) and two lucky random people will be selected on Saturday, January 23.
Set 58 years before Battlestar Galactica, Caprica follows two rival families – the Graystones and the Adamas – as they grow, compete, and thrive in the vibrant world of the peaceful 12 Colonies, living in a society close to our own. Entangled in the burgeoning technology of artificial intelligence and robotics that will eventually lead to the creation of the Cylons, the two houses go toe-to-toe, blending action with corporate conspiracy and sexual politics. Caprica will deliver, intrigue, political backbiting and family conflict in television's first science fiction family saga.

Caprica will premiere Friday, January 22nd at 9/8c. on Syfy and stars Eric Stoltz, Esai Morales, Paula Malcomson, Alessandra Torresani, Magda Apanowicz, Polly Walker, and Sasha Roiz.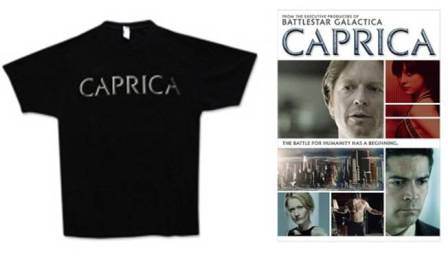 You can also get up to speed on all the lastest Caprica news from TVOvermind by clicking here.
Contest Details
1. First, you need to follow @Astrojones2 on twitter. Only followers of @Astrojones2 will be eligible for these prizes. If you're already following @Astrojones2 on twitter, relax, you're all set!
2. Next, you need to post the following tweet: "RT @Astrojones2 Caprica Contest!! Follow Astrojones2 and retweet to win a Caprica DVD!! Details here: http://bit.ly/5ZcJTQ"
That's it! Every time you retweet the post above, you're entered into the drawing for the Caprica DVD and t-shirt package, and the Caprica DVD by itself. So tweet often and win big!