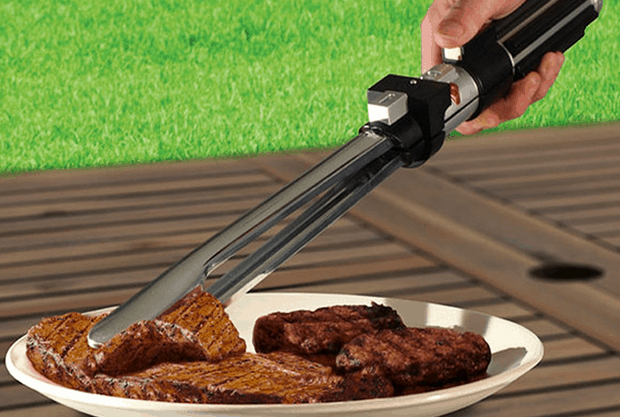 We'll probably experience a few more days of cold this month, but after that everyone's going to get psyched for spring and summertime.   Don't forget to change your clocks this weekend folks!  One of the best things about the weather warming up is most definitely cooking on the grill.  Nothing's better than the smell of charcoal or the burning marinades on top of your favorite meats.  But do you know how you can spice up your favorite grilling times even more?
Get some tongs that make Lightsaber sounds.  Actually just get Lightsaber tongs period, because yes, they exist.   They are a little on the pricey side at $30 but come on.  $30 is well worth the price if you get make those whooshing sounds while flipping burgers.  And with more and more Star Wars films on the way, the timing couldn't be more perfect.
You can buy them on Amazon.  There's also a full product description is below: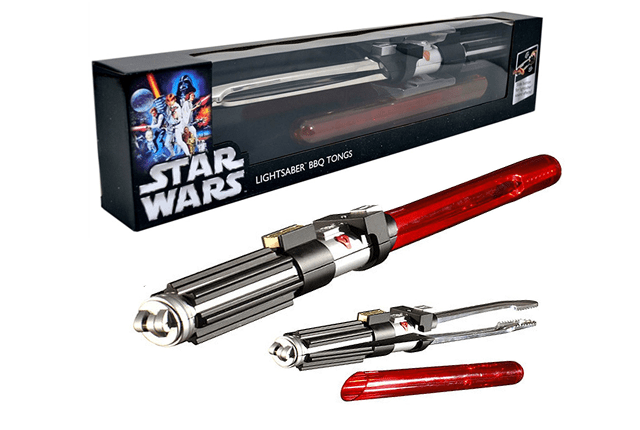 BBQ Tongs Shaped Like A Lightsaber, Perfect For Turning Your Meat To The Dark Side!

Heat Resistant Plastic Handle.

Metal Tongs – Red Storage Case.

Slide Button For Authentic Star Wars Sound Effects.

We Deliver To Hundreds Of Countries Around The World And All Our International Orders Are Fully Tracked From The UK.