After a long autumn with no Doctor Who, anticipation has begun building for the show's upcoming series after the Christmas special, "A Christmas Carol," which aired Saturday. As we here at TVOvermind love all things Who, here's one thing that we can't help but love: a set of Doctor Who nesting dolls.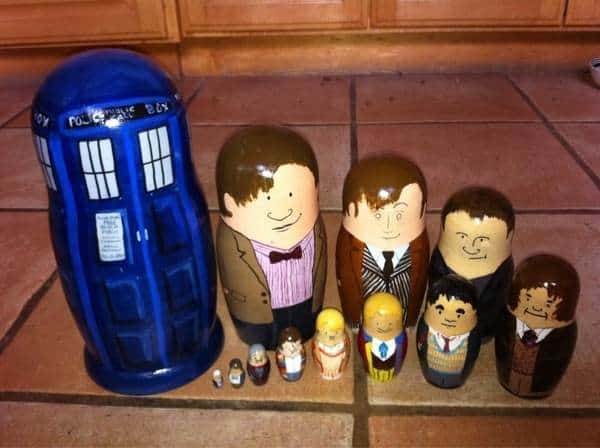 There they are, in all their glory. There are twelve total, including the eleven incarnations of the Doctor which all fit into the TARDIS. Their order is descending: Matt Smith is the largest, followed by David Tennant, Christopher Eccleston, Paul McGann, and so on. William Hartnell, the first Doctor, looks like he's about the size of a bean.
If you're already whipping out your pocketbook and wondering where you can order, I must regretfully tell you that they're not for sale. The hand-painted dolls were created by Molly Lewis for a personal Christmas gift. However, the photos have spread like wildfire, and now everyone is gawking at this awesome present.
According to SlashGear, blank nesting dolls are relatively inexpensive if you want to craft your own set of self-containing Time Lords. If I was half as talented as Molly Lewis (whoever she is), I would totally do it. I'm not, though, so I can only sit and sigh with envy.