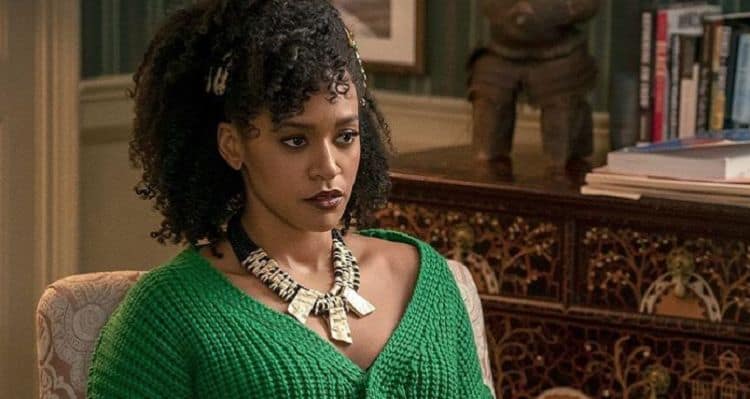 Corbin Reid's face is one you've probably seen a lot more recently. Since making her on-screen debut in 2010, Corbin has made more than a dozen appearances. Most people will know her best or her roles in How to Get Away with Murder and Valor. Most recently, Corbin, has been getting a lot of attention for being in the new Starz series Run the World. Being in the show has allowed her to share her talents with a wide audience and her fan base has grown tremendously. Although she doesn't currently have any other projects in the works people are hoping that Run the World will be renewed for a second season. Keep reading for 10 things you didn't know about Corbin Reid.
1. She's From Minnesota
Corbin was born and raised in Minneapolis but we weren't able to find any information about her upbringing. What we do know, however, is that she fell in love with acting while living in Minnesota. It's unclear exactly where she lives these days, but it appears that she's out on the West Coast.
2. She's Also Been On The Other Side Of The Camera
Acting is what most people have come to know Corbin for, but that isn't the only thing she's done within the entertainment industry. In 2019, she made her debut as a writer, director, and producer with a short film called Blind Sight. There's a good chance we'll see her doing more behind-the-scenes work in the years to come.
3. She's Been On Broadway
TV and movie roles are what has gotten Corbin the most mainstream attention, but she has also found a lot of success on the stage. After college, she moved to New York City to become more involved in theater. She has been in several Broadway productions including Sister Act, Rent, and American Idiot. In recent years, however, it appears that she's been more focused on her on-screen career.
4. She's A Formally Trained Actor
In the acting community, there's a bit of a divide over whether or not acting school is necessary. Some believe it's best to jump right into interviewing while others think formal education is an important tool. Corbin is part of the second group. Corbin attended the University of Michigan in Ann Arbor where she earned a BFA in theater.
5. She Loves A Good DIY Project
Just because Corbin is a successful professional actress doesn't mean that she thinks she's too good to get her hands dirty. In her free time, she loves doing DIY projects around the house and she's pretty good at repurposing all kinds of items. She even has a highlight section on her Instagram profile dedicated to showing off her DIY work.
6. She's In A Relationship
There are probably a lot of people out there who have Corbin at the top of their celebrity crush list but unfortunately for them, she isn't available. She is in a relationship with a man named Jasson Crockett who works for the Los Angeles Mayor's Office. The couple doesn't appear to have any children together, but Corbin is a very proud dog mom.
7. She Enjoys Working Out
Corbin definitely isn't the kind of person who just likes to sit around the house all day. Instead, she loves to get up and get active. No matter how busy her schedule is, she always finds time to exercise. Whether she's attending a class or going for a run, Corbin never shies away from a good sweat.
8. She's A Fashionista
Fashion in the entertainment industry has always gone hand and hand, and Corbin is fortunate to be a natural when it comes to both of them. She has a stunning sense of style and clothing is yet another way for her to express herself. No matter the occasion, Corbin enjoys being able to put together outfits.
9. She Loves The Beach
It's no secret that spending time out in the sun can be a great mood booster. Plus, the beautiful scenery is usually enough to brighten up even the worst days. When the weather is nice, you can usually catch Corbin out enjoying it. The beach is one of her favorite places to be and she loves doing things like swimming and boating.
10. She's An Avid Traveler
There are so many beautiful things out in the world, and Corbin wants to see as many of them as she possibly can. Thanks to her career, she has gotten lots of opportunities to travel to places all over the world. Some of the countries she's been to include Mexico, Italy, and France.