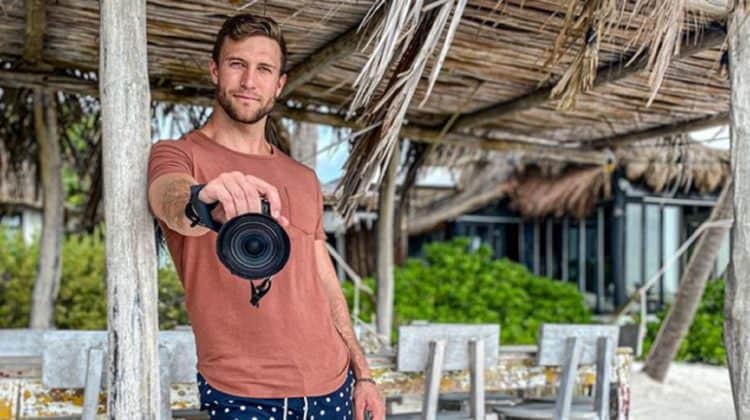 Corey Brooks became a public figure in 2016 when he was cast as a House Guest on Big Brother. Despite not winning the show, he became popular among viewers because of his relationship with fellow House Guest, Nicole Franzel. In the years since, Corey has managed to avoid completely fading from view and he has his good looks and bold personality to thank. In 2018, he was on the MTV reality series, Ex on the Beach. His reality TV days may be done (for now at least), but he has built a strong social media following along the way and there are nearly 230,000 people who like to keep up with what he's doing. Continue reading for 10 things you didn't know about Corey Brooks.
1. He Was Born On Halloween
If you remember Corey from his time on Big Brother, you probably remember that he seemed to be obsessed with Christmas season. However, after leaving the house he cleared things up a bit. He told Entertainment Weekly, "My birthday is on Halloween so I would say that is my favorite but I do love Christmas. I don't have a weird obsession with it, I just enjoy that time of year."
2. He's In A Relationship
Corey and Nicole had a cute little showmance while in the house, but things didn't carry over so well into real life. After the show, he remained single for a few years but he has recently gotten into a relationship with a model named Sami Swanson. It's unclear exactly how long they've been together, but they appear to be going strong.
3. He Loves To Stay Active
Maintaining a beach body all year long isn't an easy thing to do, but it's something Corey is dedicated to doing. He loves to stay active and exercise is a regular part of his daily routine. Whether going to the gym or doing some training outdoors, Corey always makes sure to get a good sweat in.
4. He Was A College Athlete
One of the reasons Corey is so dedicated to staying active is because he grew up playing sports. He was a longtime baseball athlete who went on to play at Texas A&M. Unfortunately, his career ended after a series of elbow injuries required him to get multiple surgeries.
5. He's A Model
After being on Big Brother, Corey realized that he had a knack for being in front of the camera. He decided to give modeling a try and has been working as a model since 2017. According to his LinkedIn profile, he is signed to The Campbell Agency. During his modeling career, he has gotten to work with several major brands including Fruit of the Loom and J.C. Penny.
6. He's A Foodie
Even though keeping his body in tip-top shape is important to him, that doesn't come at the expensive of enjoying good food. Corey considers himself a foodie and he loves to eat all sorts of things. During an interview with Deluxe Version he said that he wishes he could eat for free for the rest of his life.
7. He's A Brand Ambassador
Modeling isn't the only time Corey has gotten to work with big brands. His large social media following has also given him the chance to work with companies as a brand ambassador. Some of the businesses he's collaborated with include John Frieda US and Trojan.
8. He Loves The Beach
Corey is a native of Texas, but he currently lives in the Los Angeles area. Southern California has lots of benefits, but one of the most appealing is the easy access to beautiful beaches. Corey loves spending time at the beach whenever he gets the chance and he enjoys water activities such as paddle boarding.
9. He Is A Very Positive Person
Having a positive mindset may not allow you to avoid the difficult moments in life, but it will definitely make it easier for you to handle them. Corey prides himself on his ability to stay positive and he is all about doing things that make himself happy. His Instagram bio even says that he is 'the happiest 29 year old in the world'.
10. His Dog Rory Is His Best Friend
Corey is a huge dog person and he adopted his dog, Rory, from a shelter when she was only a few months old. Over the years, the two have formed a very special bond and Corey considers her to be his best friend. Not only does Rory make frequent appearances on Corey's Instagram, but she also has an account of her own.